When do most people get married in Sweden?
Here at Rings of Sweden we love statistics. It helps us to know what deals will be of most interest to our customers and when we should be visible to our customers to buy their rings in time.
As you may know, it's not the easiest to choose a ring. It takes time to choose materials, designs and to measure sizes. Then it will take time to get the ring made and delivered.
Back to the statistics ..
We have done a graph of the number of marriages per month. The data is taken from Statistics Sweden's Statistics from 2015, but we consider it relevant today.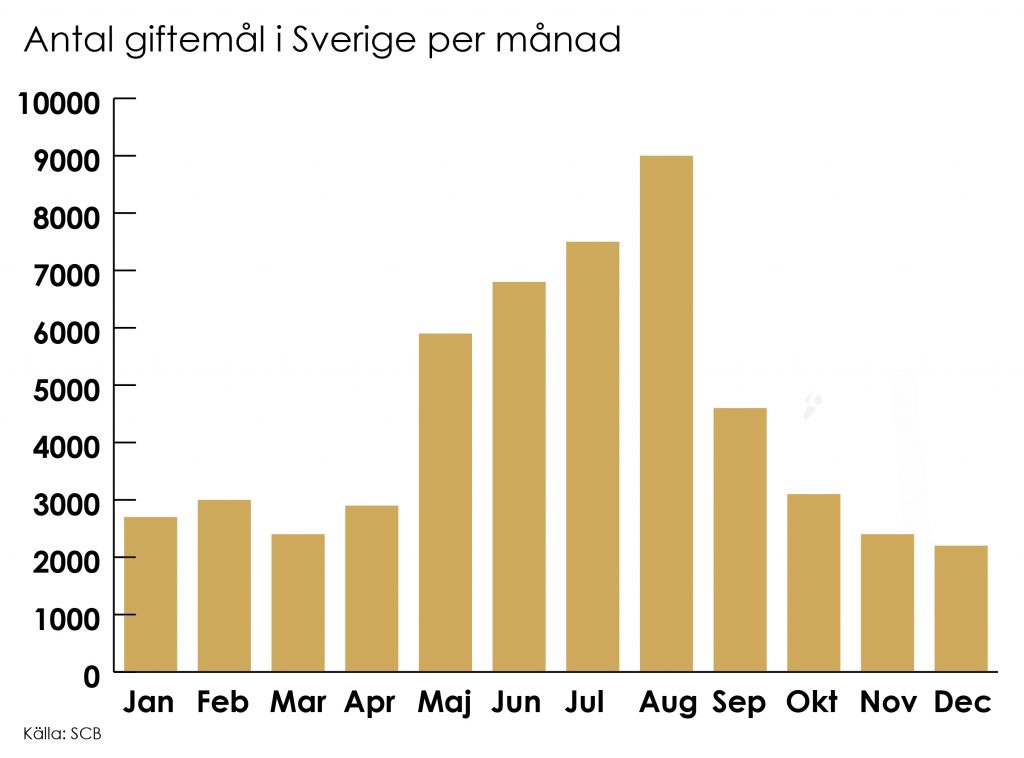 As you can see, most marriages happen in Sweden during the summer. Maybe not quite unexpected, since we have the most sunshine and can celebrate outdoors. In 2015, a total of 52 300 couples married. In August, most of them married almost 9000 couples. But the day most married was Saturday the 13th of June, when 1600 pairs exchanged rings.
If we instead look at what weekday is the most common to get married, then Saturdays will win by far. A total of 61% of all weddings fell on a Saturday. The statistics also point out that many choose to marry on days coinciding with other festivals. For example, 520 couples used to be midsummer on June 19th.
So, when should you get married?
We at Rings of Sweden obviously think that it is up to every couple to choose the date of the wedding themselves. Traditionally, the wedding should take place within one year of the engagement. However, this is an old tradition that does not necessarily serve any greater function than they might stress all the way from the engagement to the wedding. That's not the idea!
Previously, you did not know what the perfect wedding was, and nobody knows today either. But with so many weddings we've seen on TV and film as you create an image of a large and grand wedding. Nothing wrong with that, but such a wedding takes time to plan!
Our tip is to take the time needed. Know what date symbolizes your love. What time of year do you feel like lighting up on a wedding day for the rest of your life? Perhaps the choice will be completely different from what you thought from the beginning. The wedding lasts only one day, but the wedding day is celebrated for many years to come!
What time of the year do you think is the best to get married?
Leave a comment in the box below!
Marcus Fütö
Marketing Director
RINGS OF SWEDEN
Source: http://www.scb.se/sv_/Hitta-statistik/Artiklar/Flest-vigslar-den-13-juni/