Ring size measurement: We at Rings of Sweden send out a free ring sizer to you, when you order a ring with us! It is very important to us that our customers order their rings in the right size, therefore we send out a ring sizer to you, if you are unsure of your size, after you have ordered your ring. Should your size prove to be different from the one you ordered, we will easily adjust it before the rings are made.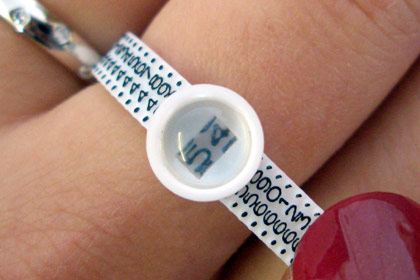 You can also easily measure your ring size by the following steps, but we recommend measuring with our ring sizer or with a local goldsmith to be on the safe side. We also provide test rings in aluminium which you can order by clicking here.
1. Ring size measurement – Take one of your current rings, preferably a smooth ring.
• Use a ruler with millimeter dimensions.
• Place the ring on the ruler and measure your ring at the widest point.
• Your ring size is the measure you see on the ruler, on the inside of the ring.
The most usual sizes for women is about 15.0- 21.0 mm and for men about 18.0-24.0 mm
2. If I don't have a ring to measure?
•  For ring size measurement, take a piece of ribbon or string and wrap once around your finger
• Measure the string / ribbon where it goes together by putting it against a ruler.
• The measurement you get in millimeters is the circumference of your finger, which we use as measuring ring size.
3. When it comes to ring size measurement, a good suggestion is to measure your fingers in the morning and evening. Also remember if you're hot or cold on your hands. Depending on the weather and the time of day, your fingers vary in size.
4. Remember to choose a size where you will struggle a bit over the knuckle so that the ring does not fall off if you are wet or have cold hands.
Which sizes the different rings are available in is always listed in the product description on our collections.
In order to get an accurate measurement of your ring size, we always recommend ordering a free ring sizer before placing an order.
Here you see Rings of Sweden's ring measurements in both circumference and diameter. All numbers in millimetres (mm)
| | | | | |
| --- | --- | --- | --- | --- |
| Circumfence | Diameter | | Circumfence | Diameter |
| 47 | 15.0 | | 62 | 19.7 |
| 48 | 15.3 | | 63 | 20.0 |
| 49 | 15.6 | | 64 | 20.3 |
| 50 | 15.9 | | 65 | 20.6 |
| 51 | 16.2 | | 66 | 21.0 |
| 52 | 16.5 | | 67 | 21.3 |
| 53 | 16.8 | | 68 | 21.6 |
| 54 | 17.2 | | 69 | 22.0 |
| 55 | 17.5 | | 70 | 22.3 |
| 56 | 17.8 | | 71 | 22.6 |
| 57 | 18.1 | | 72 | 22.9 |
| 58 | 18.4 | | 73 | 23.3 |
| 59 | 18.8 | | 74 | 23.6 |
| 60 | 19.1 | | 75 | 24.0 |
| 61 | 19.4 | | 76 | 24.3 |