The most expensive engagement rings in history
It's quite hard to say which rings are the most expensive ever, everyone who buys jewels is not celebrities, and many are discreet and do not like talking about prices. Here are some of the most expensive we have heard of.
An engagement ring is always present when one of the most romantic occasions in life happens. Obviously, you can get engaged with a silver ring, a diamond ring, any ring can be enough. But who wants the ring to be "just enough"? Not these celebrities anyway!
Rings, rings, rings ……
The singer and the artist Mariah Carey got the most expensive engagement ring we have ever heard of, she received it from Australian billionaire James Packer. The ring, with a 35 carat diamond is said to be worth approx. 7 million Euros (10 million dollars). How to get used to wear such a big diamond on your finger is hard to say, but given Mariah's eyelashes, she seams to be quite used to exaggerated things. In the end they never married, and Mariah sold the ring.
https://i0.heartyhosting.com/radaronline.com/wp-content/uploads/2016/01/mariah-carey-engaged-james-packer-billionaire-engagement-ring.jpg
Take a look at our diamond rings, we have none of 35 carat, but ours are much, much nicer than Mariah Carey's giant ring ? and you don't need 10 million dollars to buy one of them!
Elizabeth Taylor received a 33.19 carat diamond ring worth $ 8.8 million from Richard Burton in 1968. True love? Elizabeth Taylor married eight times, the first time when she was only 17 years old. But Richard Burton was her great love, she married him twice. The couple can also be considered the world's first "Celebrities" and their stormy love story includes quite a few scandals.
When Kanye West asked Kim Kardashian to become his wife on a baseball field, on her birthday 2013, he gave her an engagement ring with a 15-carat diamond worth eight million dollars. The rap singer had hired the whole stadium; he had also hired an orchestra with 50 musicians and a huge movie screen that showed the question: Will you marry me? She said yes, and it didn't take long before Kim uploaded a picture of the ring on Instagram, which she later regretted. The ring was stolen in an armed robbery in Paris when Kardashian was there visiting Paris Fashion Week. But nothing to worry about, she didn't get hurt and her boyfriend bought a new ring, upgrading from the 15 carat diamond to a 20.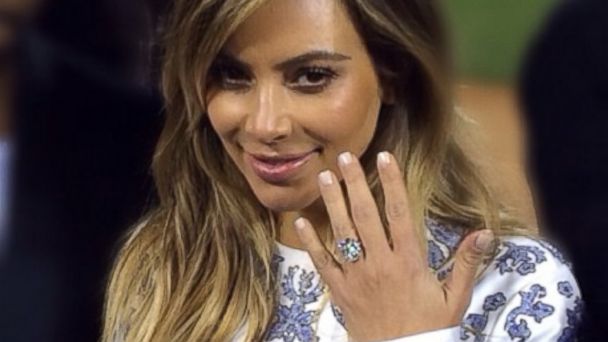 Grace Kelly received a Cartier ring with a 10.47 carat diamond and two "baguette-shaped" side stones, from Rainer III of Monaco when they engaged; it was valued at four million dollars. The actress never took the ring off her finger since that day, so in the last movie she appeared, High Society, one can see her in a scene where she lies on her bed polishing the ring with the bed sheet.
When Tom Cruise asked the actress Katie Holmes to marry him in the Eiffel Tower in Paris in June 2005, he gave her a ring with a beautiful 5.5 carat oval diamond, surrounded by 6-carat of smaller stones. The ring was worth 1.5 million dollars. Love, spring in Paris, the Eiffel Tower, diamond ring, Tom Cruise is definitely a very romantic man.
In 1968, Jacqueline Kennedy Onassis received the most expensive engagement ring the world had ever seen until then, a huge 40-carat Marquise cut diamond worth $ 2.6 million. The stone was part of a renowned 601 carat South African brown Lesotho diamond that was divided into 18 smaller stones. Yes, the original raw diamond was 601 carat. Incredible but true.
Hillary Duff got an engagement ring of hockey player Mike Comrie with a 14ct. diamond with a cost of approx. 1 million dollars.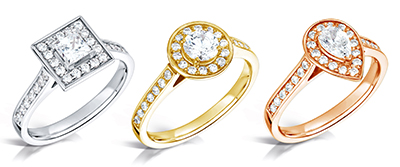 The tennis star Anna Kournikova received a wonderful diamond ring by the Spanish singer Julio Iglesia's son, Enrique Iglesias, also artist, just like daddy. The ring: 2.5 million dollars and 11 carats.
Are you getting engaged or married? What does your perfect ring look like? Do you want to choose the ring yourself or do you prefer a surprise?