100th Anniversary – From Hellke's Rings to today's RINGS OF SWEDEN – Part 3
Over time, the new generation and the owners felt it was time to expand into a more international market. The ambition was to sell rings all over the world with the same traditional Scandinavian minimalism and increased choice in terms of materials, engraving and finish.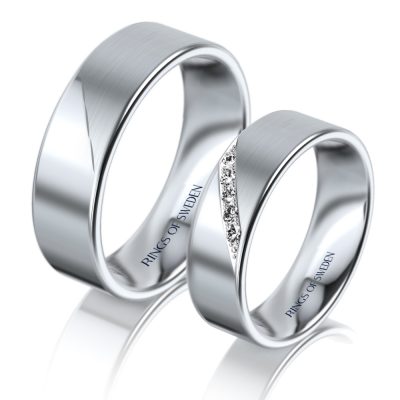 Beautiful flat-court gold rings with slightly rounded edges. A diagonal diamond band distinguishes the ring's 2 different finishes; polished and lengthwise brushed (matt). The diamond ring is set with 5 pieces of 0.04 ct G-vs brilliant cut diamonds. The rings have been specifically designed to balance a modern and classic feel, for those who like that little extra and where the passion for your love is in focus.See the rings here!
Name change; Hellkes Rings become RINGS OF SWEDEN
Selling unique rings on the international market required a name change. Hellkes Ringar did not identify the concept in other languages. Therefore it was decided to change the name to Rings of Sweden. That was in 2015. The company's soul lives on today with a focus on a fusion of the traditional and modern design and a new name that describes the beautiful design of the rings.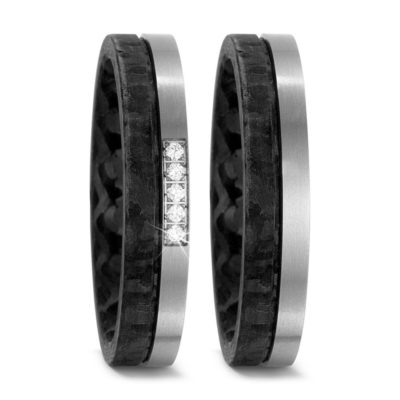 These very beautiful rings are made of carbon fiber and titanium. They are suitable as both engagement rings and wedding rings. These are called CARBON SLIM.
Ownership changes with the same suppliers, and the experience lives on in the company
After the name change, it was eventually time for a change of ownership as well. New passionate enthusiasts took over in 2015: Emelie and Marcus. The couple who own Rings of Sweden today love life, modern Swedish design and the Internet. They quickly turned the website and Internet shop into an easy-to-use modern and intuitive online store with a wide range of classic and trendy exclusive rings. Of course, with a focus on engagement and wedding rings.
A beautiful pair of black zirconium rings with a 1.5mm inlay of 18K rosé gold. The diamond ring is fitted with 1 x 0.03ct brilliant cut diamond. BLACK X ROSE GOLD/DIAMOND.
A wider range and new exciting materials
Emelie and Marcus focused on introducing new collections in gold and platinum and new materials such as carbon fiber and zirconium. Today, you can find thousands of beautiful, high-quality rings at competitive prices in the webshop. If you have an idea of your own, contact Rings of Sweden's customer service department, they will be happy to create the ring you have in mind. Welcome to Rings of Sweden!