WEDDING DRESSES AND BRIDAL HAIRSTYLES
Every year there are new fashion trends, and this also applies to wedding dresses. Here are the trends that we will see most of in wedding dresses and bridal hairstyles in 2021.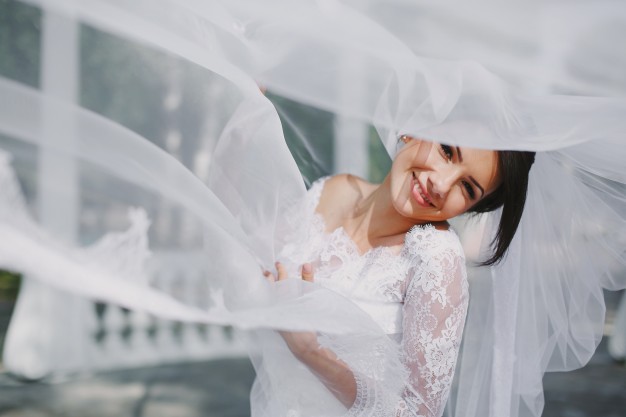 Wedding Plans 2021
Maybe many of you planned to get married in 2020 but preferred to wait. It became uncertain to plan at all during the year. Last year made us all change our daily life and reconsider our priorities. We have also seen changes reflected in the bridal trends of 2021. 
Your perfect wedding dress should make you feel comfortable, beautiful and fit your style. Also, try to make it fit the circumstances and the environment where the wedding takes place. Also keep in mind the season, the celebration place and the time of day you will get married. The same thing applies when choosing your wedding ring: it should be the ring you will love to wear on your finger. In April we offer a 15% discount on our beautiful carbon fibre rings. We have an incredible new ring this month: Carbon Black Stars.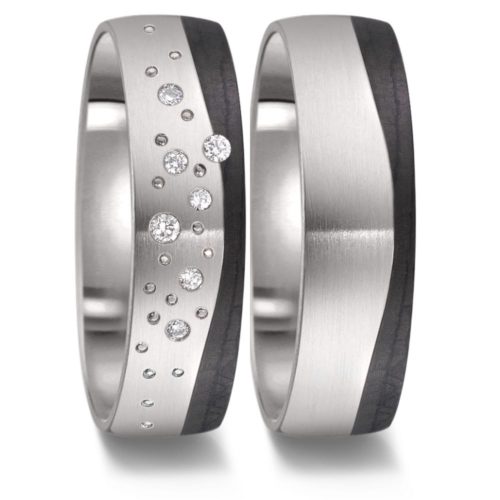 Wedding dress trends 2021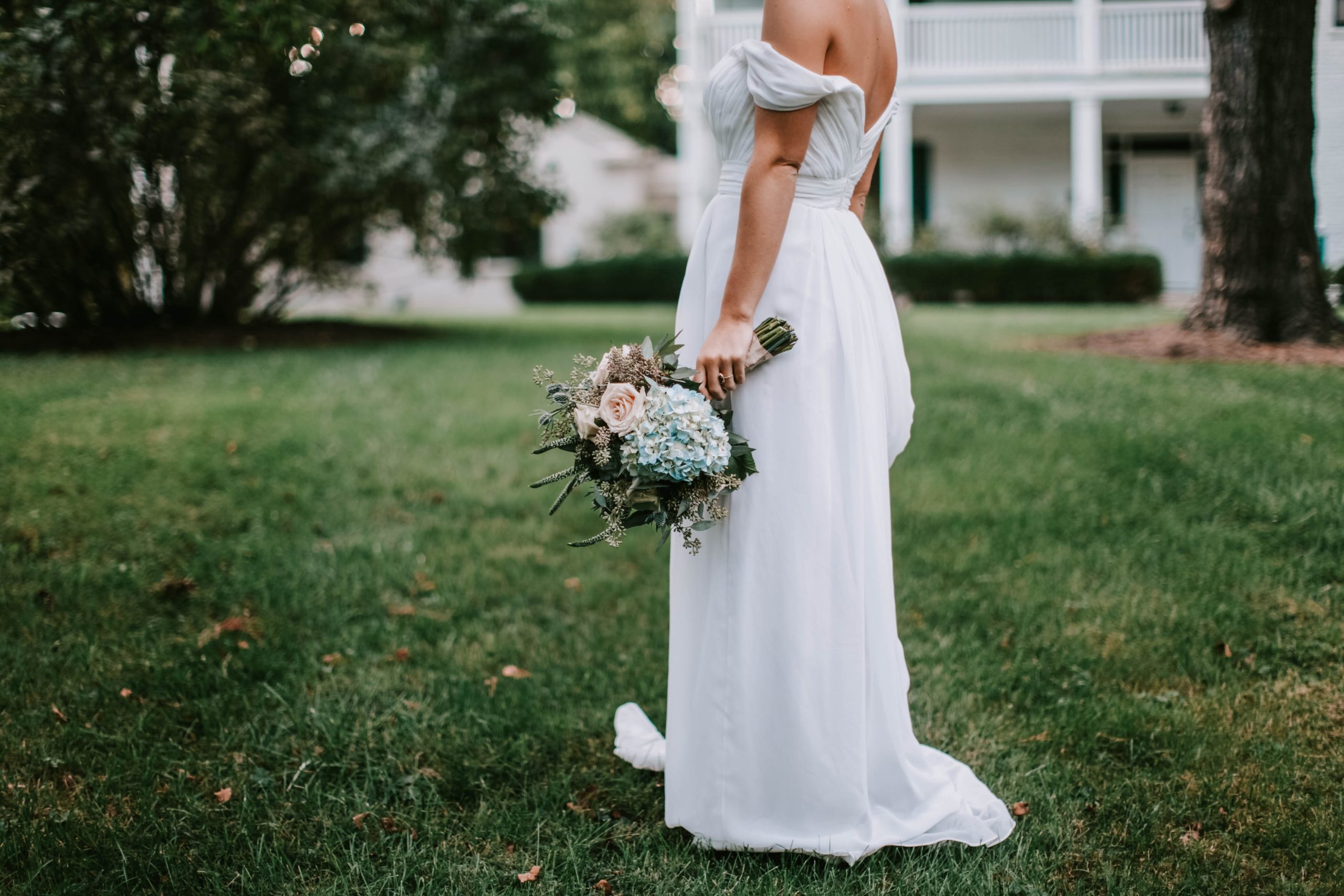 The trends we will see in the coming months are many, and they are all very dispair, but also new and exciting. One of the trends that last is backless dresses.
Fantasy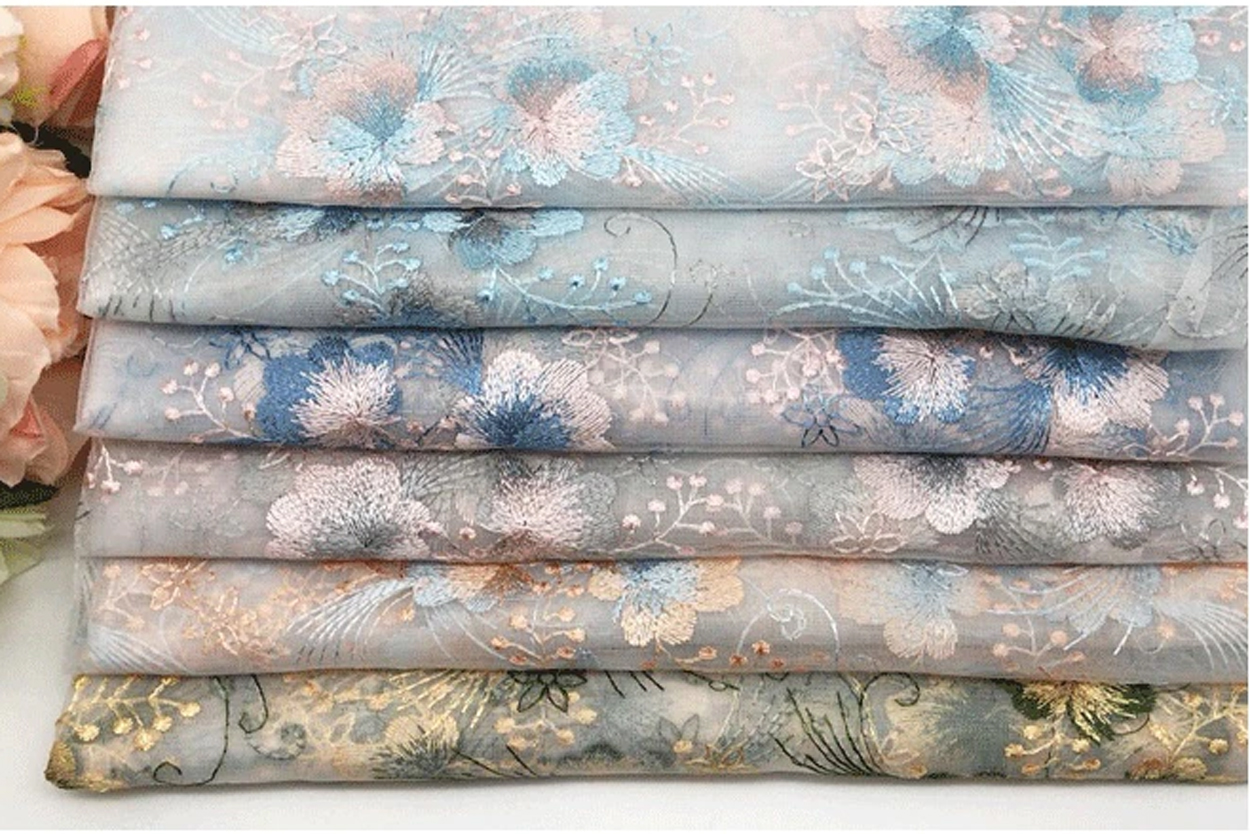 In this unusual situation, we are beginning to see some light again. It inspires you to dream about the future and let your imagination add colour to your dreams. Dresses with handmade embroidery in many colours, sequins and iridescent rhinestones make us think of a fabulous fairytale wedding. Ivory, powder pink, cream white, champagne and pale pink are frequent colours, but that is not all there is. Silver grey, gold-coloured, black and red wedding dresses are also available, and any colour you can imagine if you like it. A floral or patterned wedding dress can be your choice and as unique as our wedding rings! 
Volumes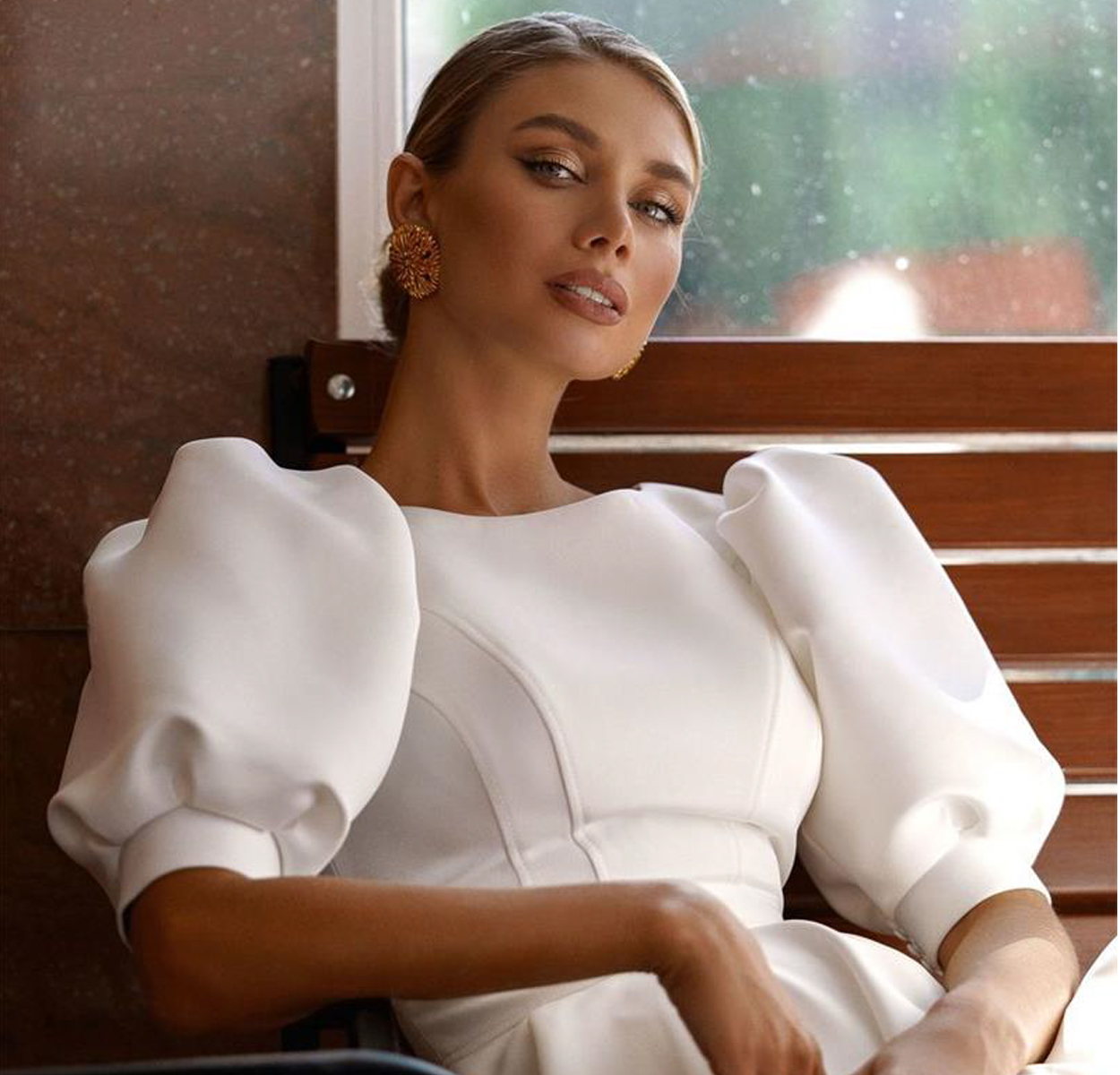 Dresses with volume and sleeves that attract attention are in the same line as different colours. These are dresses that differ from the silhouettes that we are used to wearing every day. Wide bell sleeves, puffy sleeves, ruffles and a lot of fabric used to create dresses that make us feel unique and special. In our ring collections, you will also find many unique wedding rings!
Natural and textured textiles
Here is the premise if you think that "less is more". A beautiful pattern on quality fabric, and voila, you have a perfect wedding dress without having to add anything more. We will see many natural tissues, silk and chiffon but also tulle. A fantastic comfortable alternative during the cooler months can be a cashmere jumper with a beautiful long princess skirt. It is an elegant combination that fits just as well with stiletto heels as ballerina shoes or boots.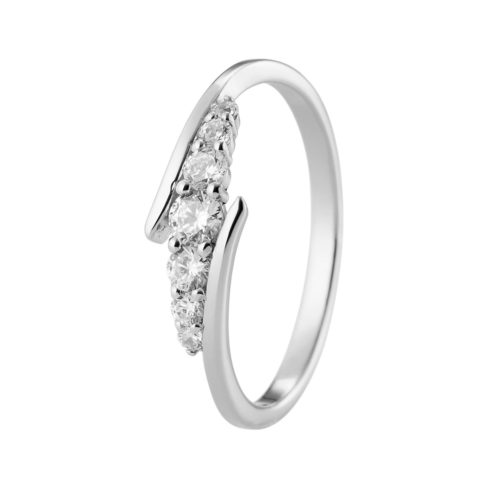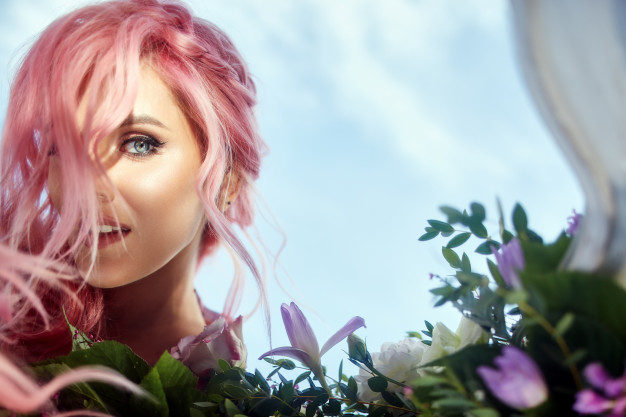 There is a beautiful hairstyle for each wedding dress
Backless dresses, sleeves with personality, embroidered tulle, bare shoulders, romantic, bohemian and sophisticated wedding dresses are what we will see in this year's bridal collections. Bridal hairstyles have also become simpler and more varied.
Different hairstyles fit perfectly with every wedding dress
For wedding dresses with a high collar neck or Sabrina neckline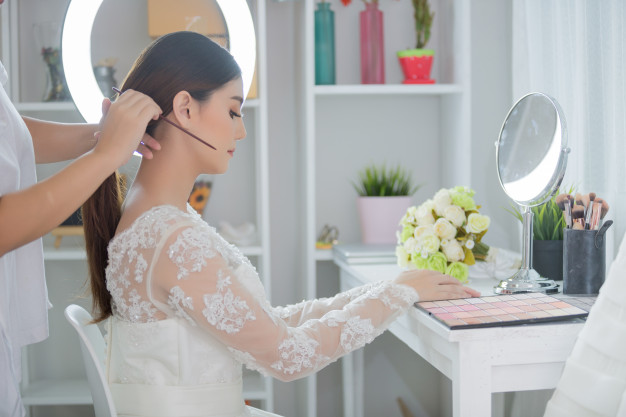 Classic and timeless hairdos fit these two types of wedding dresses well. Go for hairstyles that remove the hair from both the neck and the face, as well as high sets. Modern, simple and very trendy are ponytails and ballerina buns.
Gold rings are the most classic engagement and wedding rings. We have a wide range of gold rings with rings in yellow gold, white gold, rose gold and trendy rings in black gold. 
Backless wedding dresses
Open-back wedding dresses have been the absolute bridal dress' trend of recent seasons. They give you a "wow" effect. If this is your choice, your ideal hairstyle can be one of these two options:
All kind of braids
Without a doubt, braided hairstyles are one of the favorites right now, especially among those who choose romantic and slightly bohemian wedding dresses. "Herringbone" braids, French braids, boxer braids, loose hair with many thin braids. There are endless options, and they also work very well with hair accessories such as beads, tiaras, flowers and hair bands.
"Messy" hairstyles
Two hairstyle alternatives to show off your beautiful back and neck are bohemian and relaxed hairdos. With the "I did it myself " effect, even if you did get help at the hairdresser.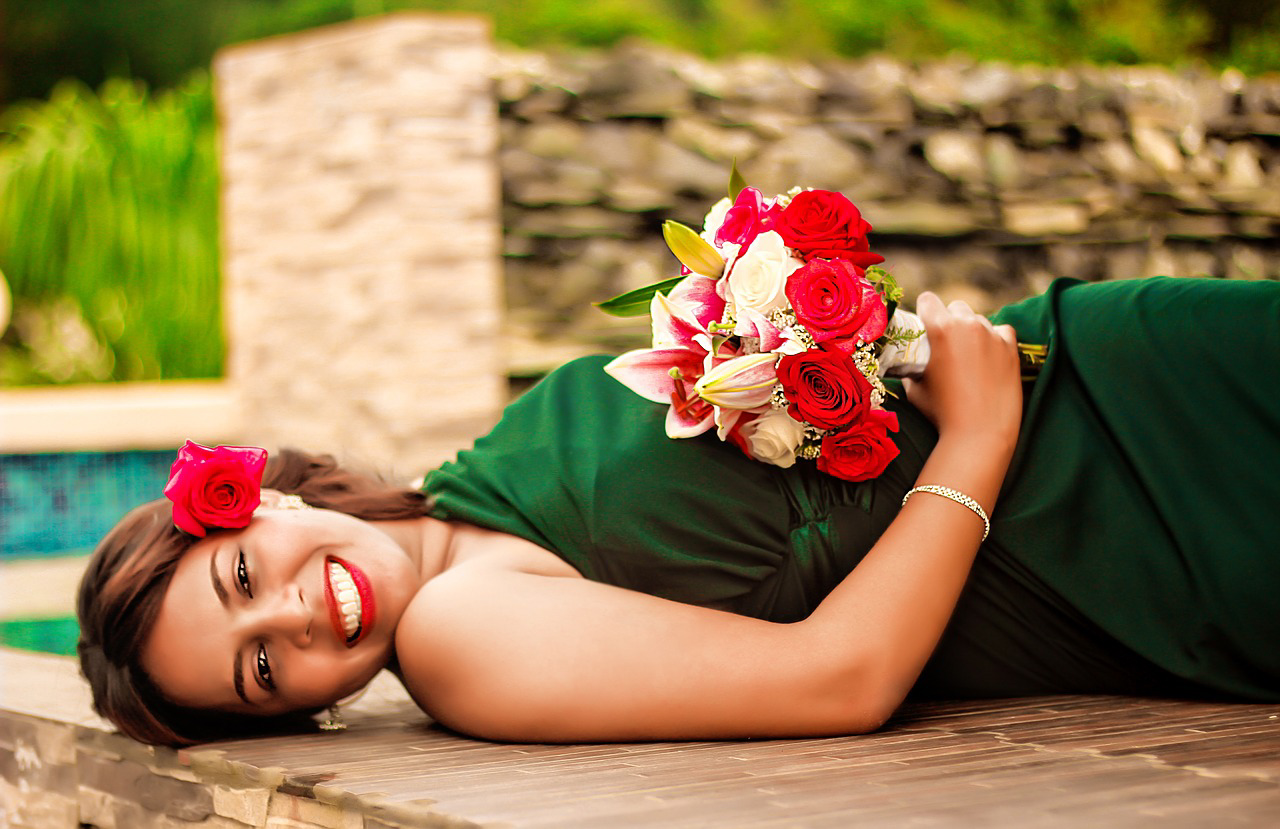 There are almost always one or more wedding dresses with at least a touch of colour in most new collections. There are not only white, off-white or ivory coloured dresses this year. We will also see pink, soft gold, grey, and even black, and dresses with multicoloured details and embroidery.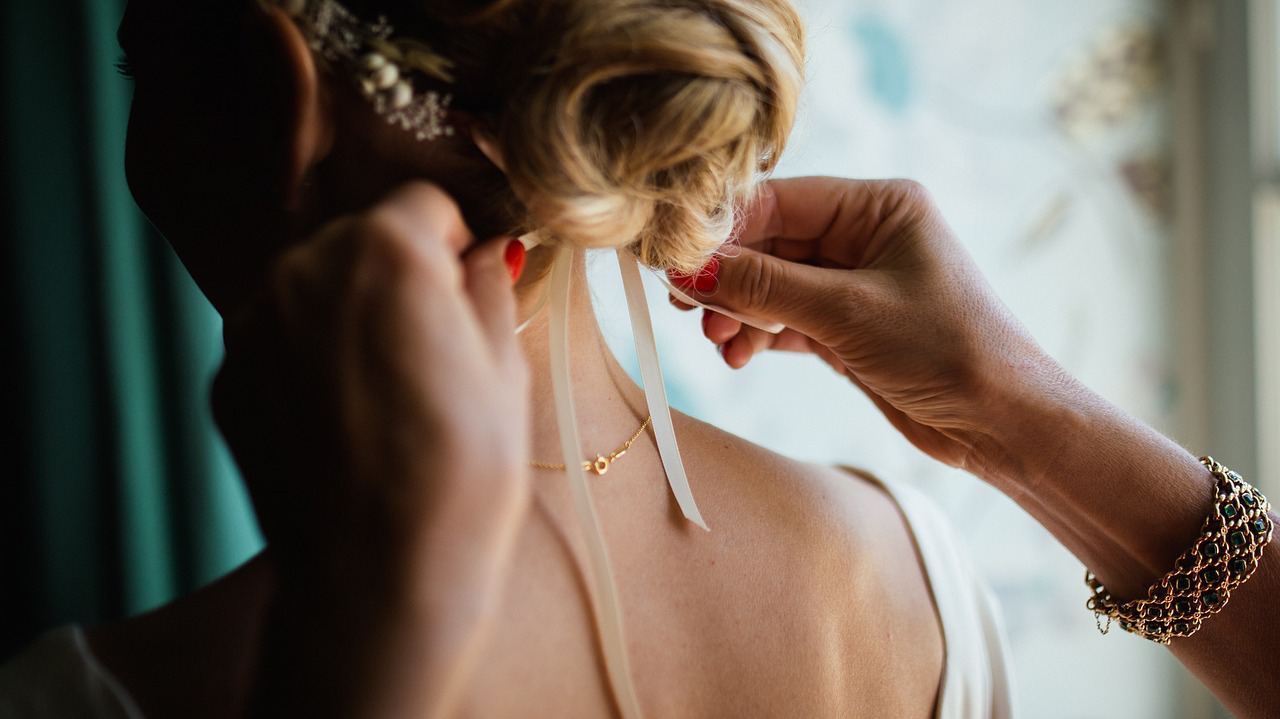 If you dare to wear a colourful wedding dress, it makes no sense to choose a classic hairstyle. Try with a "hen-bun" or "half-bun", a casual and urban hairstyle very popular with celebrities and influencers. The hairstyle can easily be made festive and with hairpins and flowers.
Wedding dresses with bare shoulders
Wedding dresses with bare shoulders are classic. The latest version, which is one of the trends of this season, is the fake strapless dress. In other words, the neckline and the sleeves are delicate tulle, plumeti or lace, which creates a beautiful effect.
Low bun
A low bun makes a very sophisticated impression but is still a modern hairstyle. Add some braids, loose strands and a lot of volumes.
Loose hair with waves or curls
Wearing loose hair is an option for brides with thick and healthy hair. Glamorous big waves are beautiful. California waves are the second option, especially in the summer when an "I come straight from the beach" look fits very well.
Our special offer in April is a 15% discount on all carbon fibre rings. See all of them here. 
Which do you choose first, the wedding ring or the wedding dress?
Do you want to get married wearing a white wedding dress or would you dare to dress up in colour and patterns? 
Do not miss next week's post on www.ringsofsweden.com: Find your perfect wedding shoes.