The perfect wedding shoes
Among the bridal accessories needed to complement the wedding dress, shoes are of the highest priority. You have to decide which type of bridal shoe will fit your gorgeous wedding clothes and find the perfect pair.
Shoes and rings must fit perfectly!
The first thought may be to let your eyes choose a pair of princess shoes, like Jimmy Choo style, with very high heels, but that may not be a good choice. You are supposed to enjoy the wedding, not suffer from your uncomfortable shoes all day.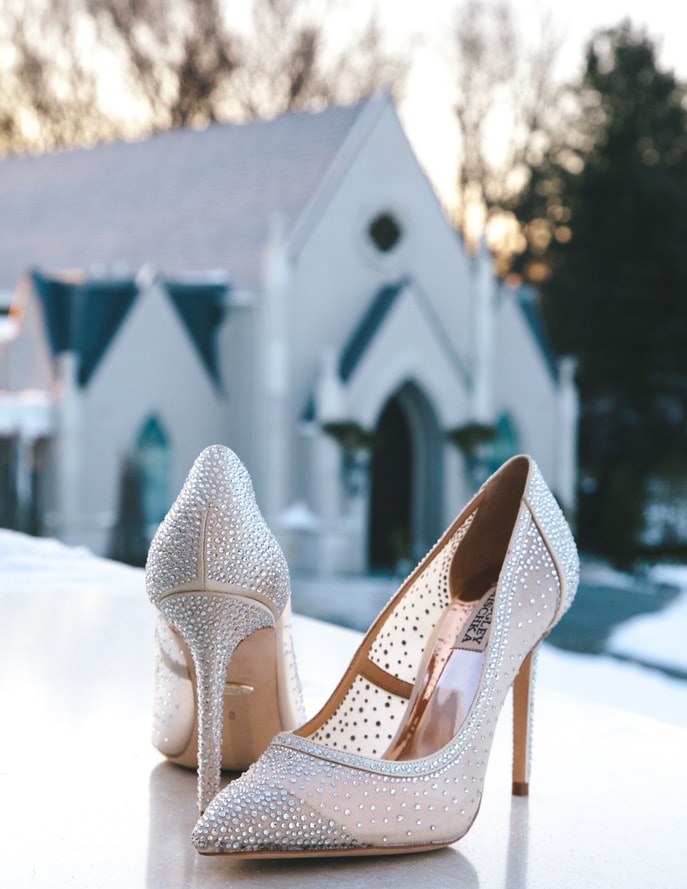 Choose comfort and enjoy the day!
There is an infinite number of shoes that are both comfortable and pretty. You have to like them, of course, but you also have to want to wear them for many hours. The same applies to wedding rings. A ring should be comfortable to wear on the finger. Many of our models have a unique "comfort fit", a rounded inside that makes them fit very comfortably on the finger. You can also choose between different materials, more or less heavy. Read about the materials in our post: Which material should I choose?
The place and the dress first!
You may have already thought about what dress you are going to wear. But do you know where to get married? Getting married in a church or on a sandy beach is not the same thing! Once you have decided where to celebrate the wedding, you can choose a dress that perfectly suits the surroundings. Time to choose bridal shoes!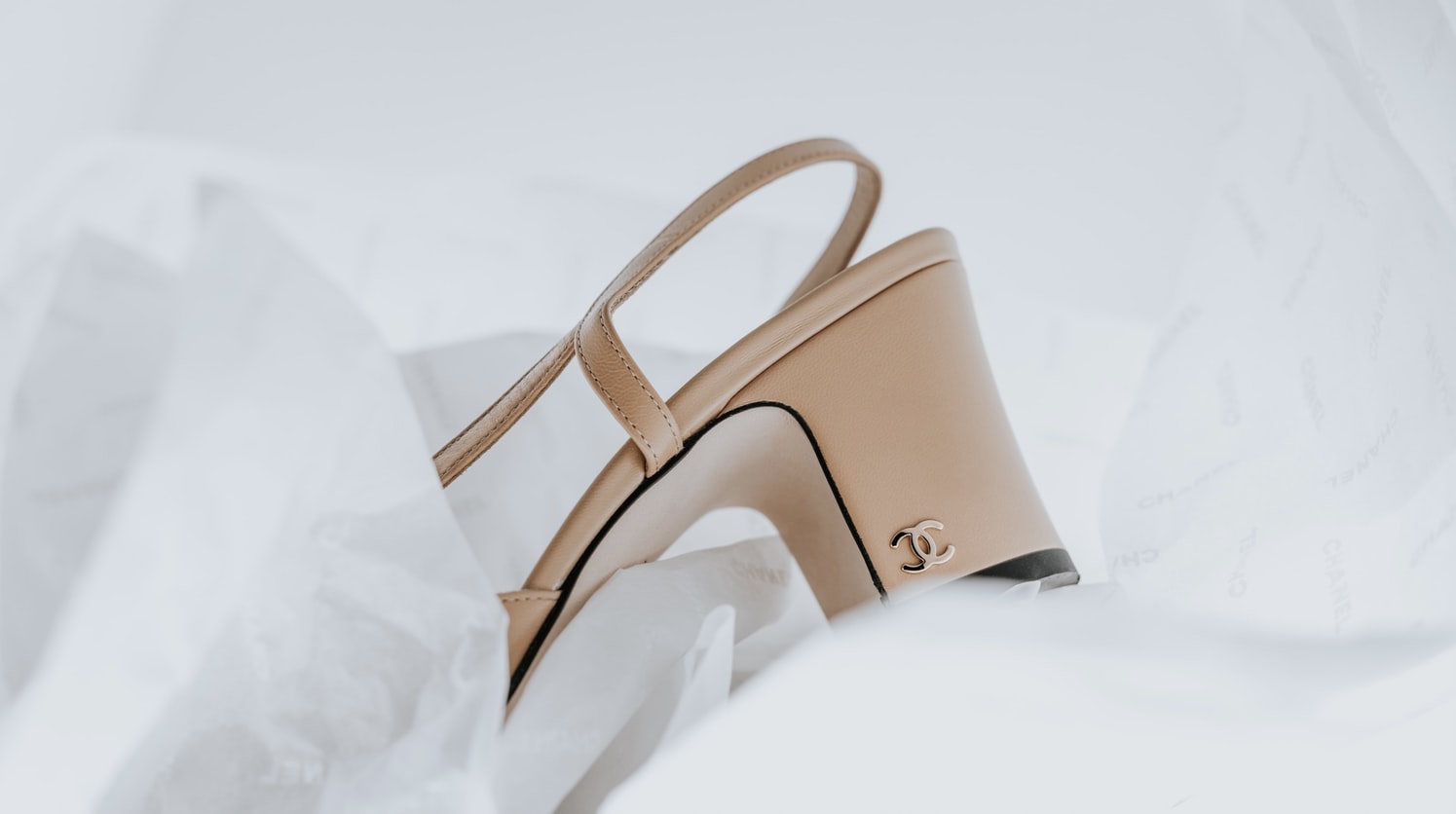 Heels, grass and sand!
High stiletto heels are nice, but they are not for walking on a lawn or in the sand. They can also be painful after many hours. It is wise to choose a medium height and slightly wider heel, especially if the shoes are expensive. Otherwise, they may end up in the closet among everything else that you never will use again.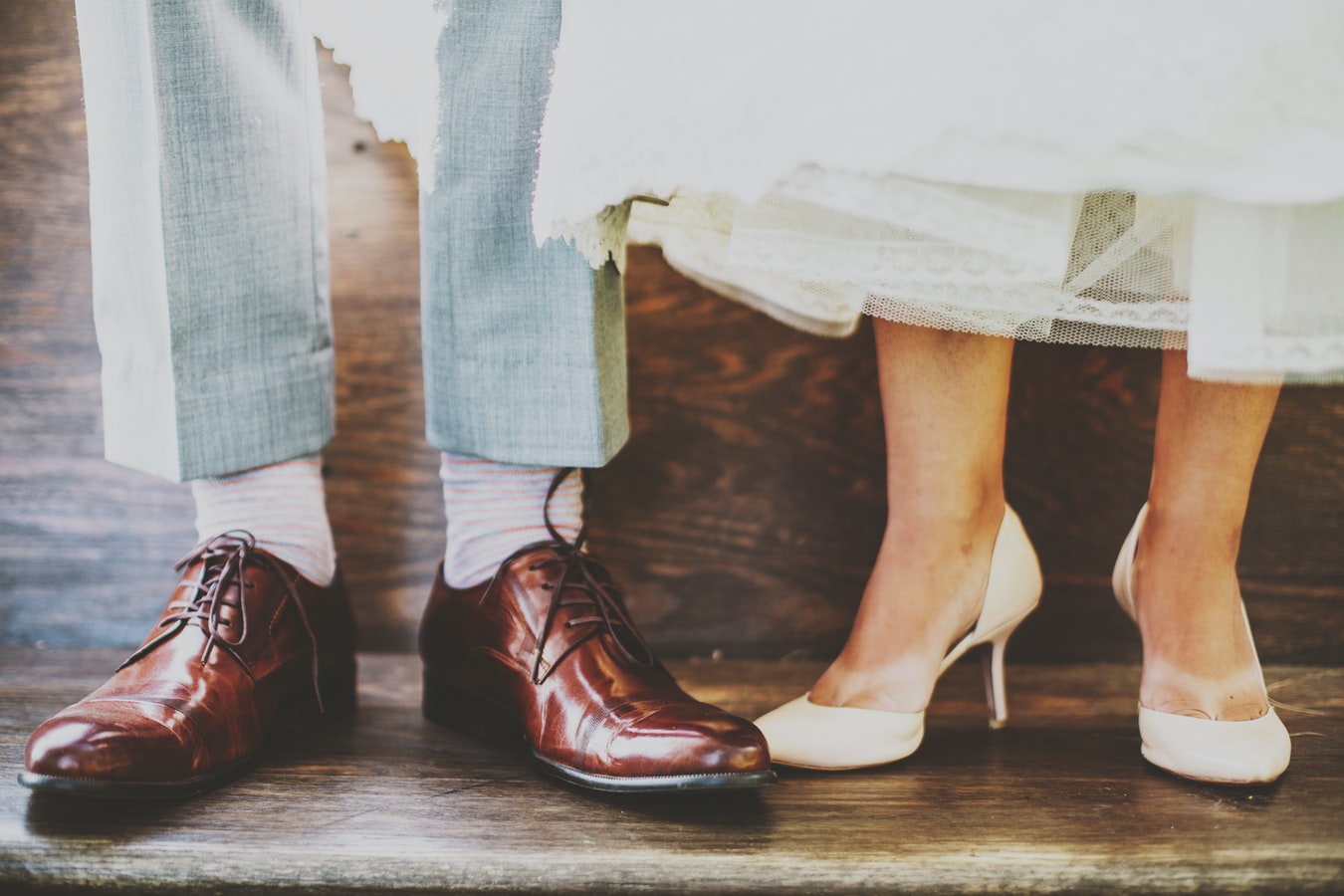 Try, try and try!
Do not buy wedding shoes without trying them on. When you buy rings, you can use a ring measure and be sure that the size will be correct, but when you buy shoes, the size only means the foot length, not the width or the shape of the feet.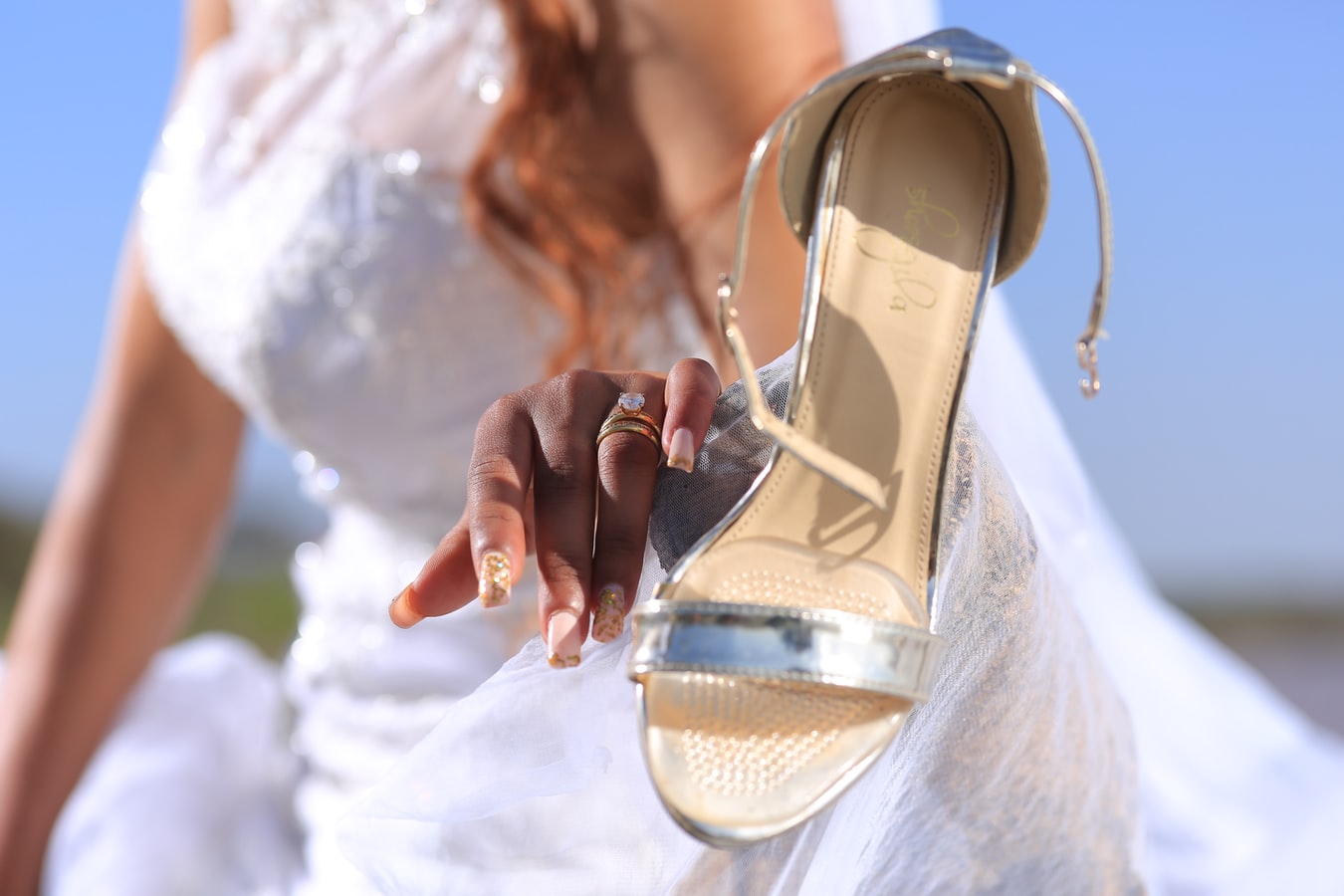 New but not unused!
Walk and dance at home, with your wedding shoes on, for a few days. This way, they get time to adapt to your feet, and you avoid getting chafes from them on your big day.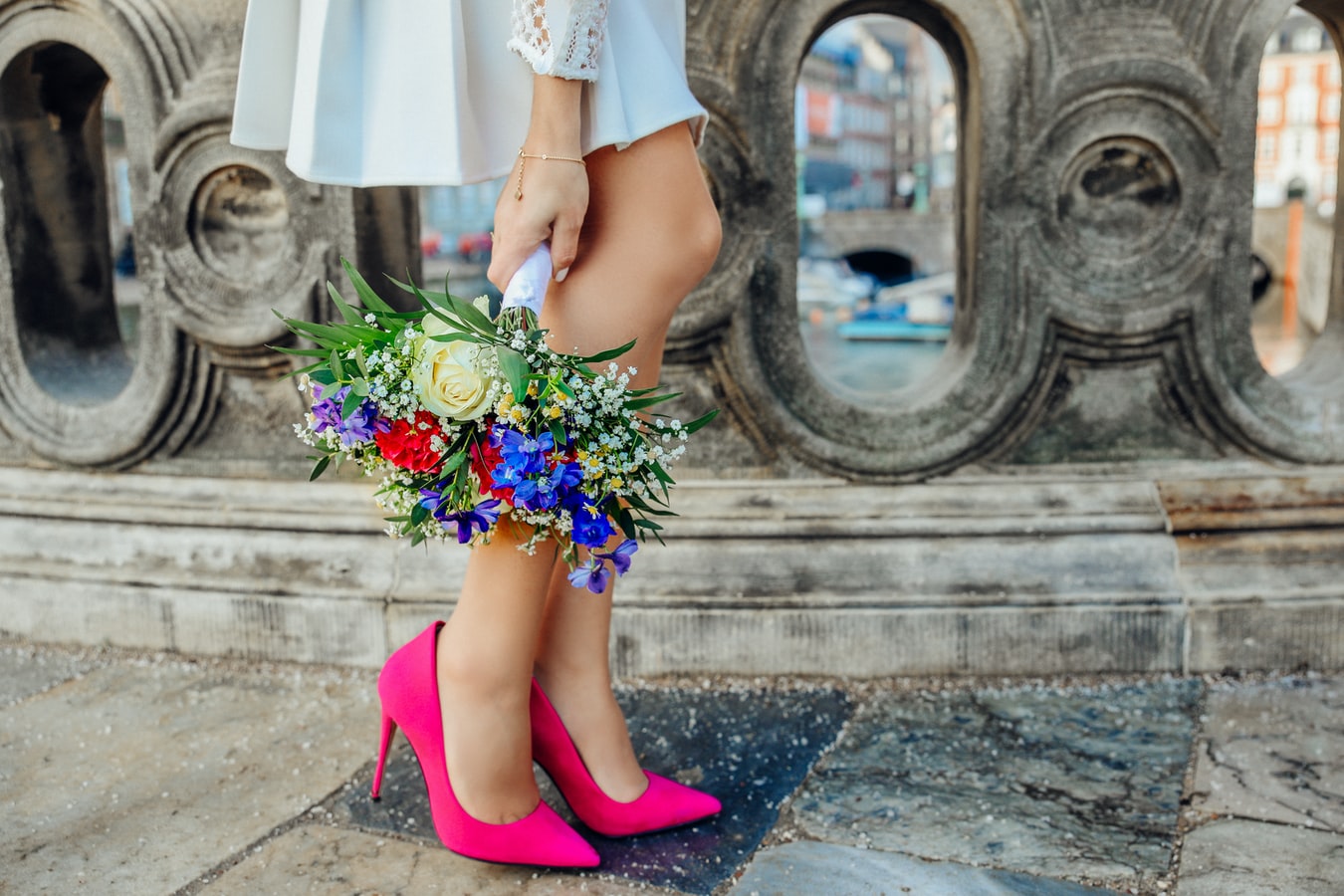 Do not be afraid of colour and daring shoe styles!
Sandals in the summer or boots in the winter can fit just as well as classic bridal shoes. Shoes in pastel colours can be "the little extra" thing, especially if they match the bridal bouquet or some other accessory. Bling and glitter are never wrong. Vivid colours can make your bridal attire unique: Dark blue, red or green nice shoes that you will use again and again.
DIY!
Can't find the perfect shoes for the wedding? Do them yourself! Buy a pair of simple shoes that you find comfortable and style them with pearls, glitter, lace, ribbons and small flowers.
Do not buy at the last minute!
Finding the perfect shoes at the last minute can be incredibly frustrating. Can you imagine how stressful it would be not to find your dream wedding shoes when the day is approaching? Just as with the wedding rings, the wedding dress and all other accessories, it is best to shop in time. When you buy rings from us, we state the estimated delivery time, which in most cases is between 2 to 4 weeks.
Do not miss our offer in April, 15% discount on all our beautiful carbon fiber rings. 
CARBON FIBRE IS EXPRESSIVE, MODERN & ELEGANT
From carbon fiber, we create luxury rings with a durable and exciting surface. There are two forms of pure carbon, deep black and pure white. In our collection, carbon fiber is combined with titanium, Damascus steel, rosé gold or yellow gold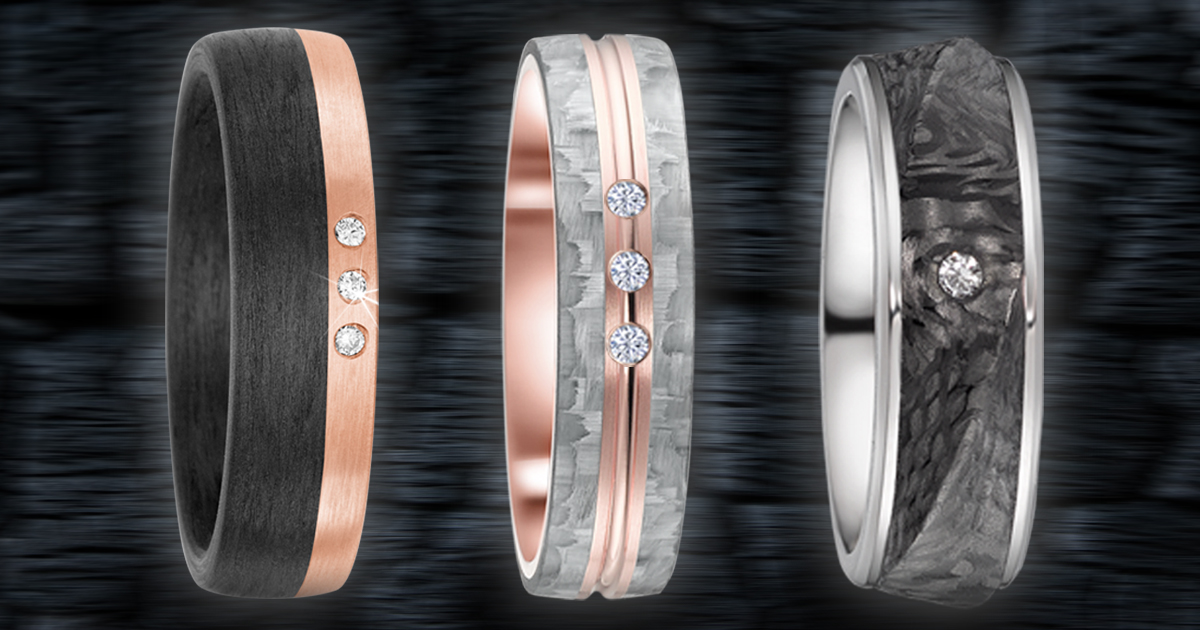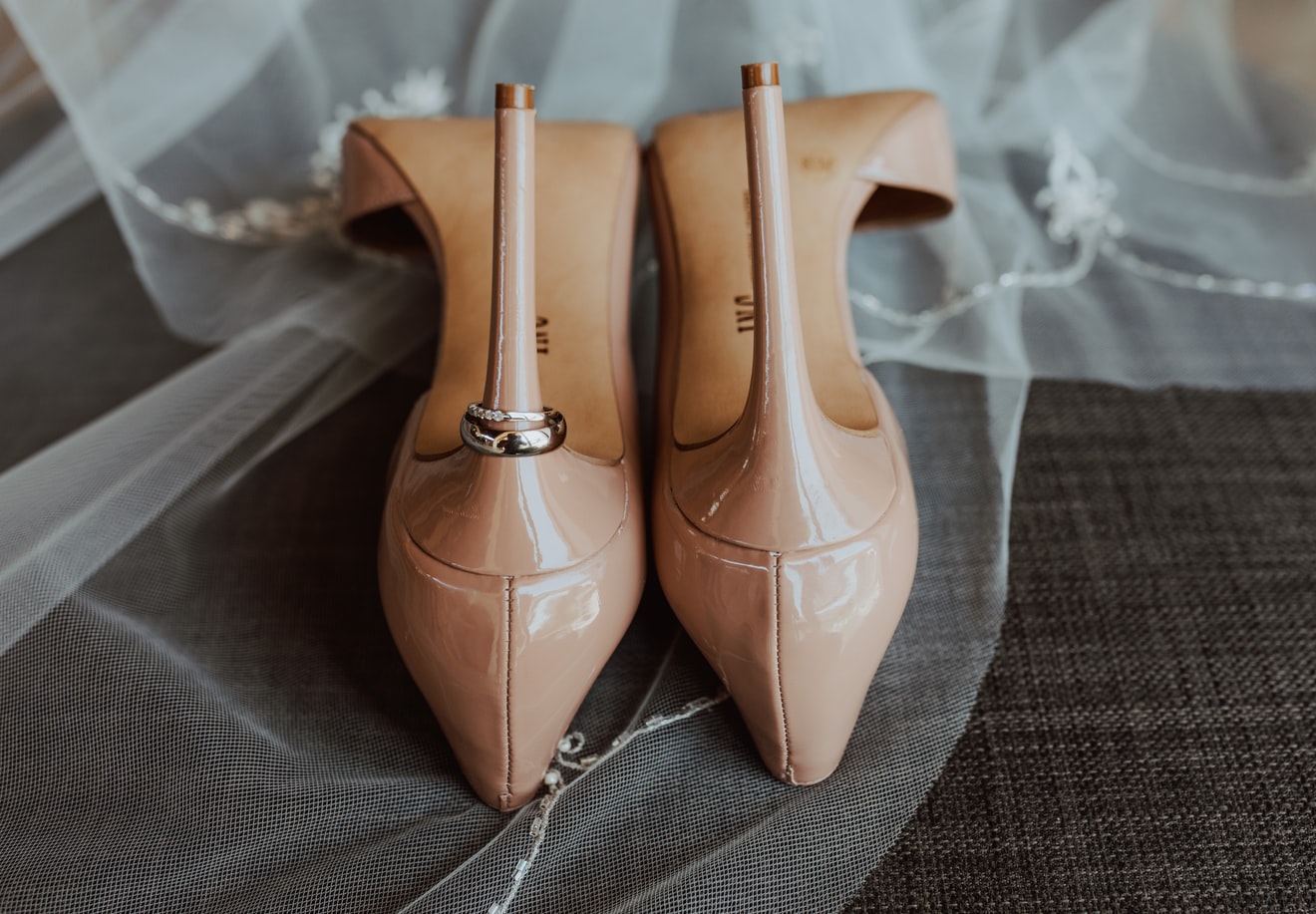 FREE SHIPPING
Rings of Sweden offers free shipping within Europe and sends all shipments by registered mail. It can take between 5-14 working days from the moment the wedding rings are made and ready to be sent.
EXPRESS SHIPPING
If it is extra urgent, or if you want the package delivered to your door, we recommend choosing Express Shipping. For a fee of SEK 499, we send your package with DHL, MRW, DPD or FedEx. This way, it only takes 1-3 working days to receive the rings from the moment they are ready to be sent