What could be more romantic than Christmas? A Christmas Ring of course!
Christmas is, quite rightfully, the season of goodwill and this festive tradition is nothing but heart-warming. And to warm someone's heart we all try to find the perfect gift. Think about beautiful rings. A ring is forever, with or without diamonds. A ring is something everyone loves and carries with them for many years. Each ring has its own story of relationship, friendship or love and reminds us over and over again of the person who gave us the piece of jewellery.
A ring is not only for engagement or marriage, it is a proof of feelings and it can be personalized in thousand ways. You can engrave a ring with names, messages or dates, on the inside, as many do, or on the outside to make the message visible.
A perfect christmas gift
Rings are perfect gifts for friends, parents, sisters, brothers, and why not, give yourself that masterpiece you always wanted to own!
But order your rings soon!
But remember, order your rings soon. Christmas is only a few weeks away and we need some time to deliver your gifts. Take a look in our on-line shop and discover all the new styles, many surprises are waiting: Black Gold, Black Zirconium, Carbon Fiber Rings, Ceramic rings and many more.
Shipping is free with a registered delivery where you will be able to track your parcel from the time it leaves us until it arrives at your nearest post office. We call this shipping method "Standard Shipping".
You also have the option to choose "Express Delivery", which will involve a private shipping company like DHL or Fedex. This option delivers your rings to your doorstep. We also recommend this option if you are in a hurry to get your rings, as this option tends to be a bit faster.
So, don't be late for Christmas!
Carbon Fiber rings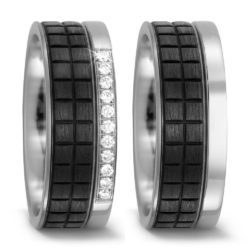 €

373,48 –

€

1.072,41
Very beautiful rings made of carbon fiber and titanium. They are suitable as both engagement rings and wedding rings. Diamond:  11 pcs, 0.11ct w-si With:  8 mm Height:  2.2 mm Delivery time: 4 weeks
Rings in Black gold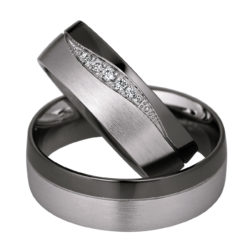 €

2.769,76 –

€

2.912,58
Very exclusive and beautiful rings from Saint Maurice, made of 18K white gold and black. These unique rings are ideal as both engagement rings and wedding rings. Black gold is obtained by mixing white gold with palladium, the mixture becomes a dark gray/black which is then strengthened by adding three layers of ruthenium. We offer 1 year warranty on all rings from the Nightline collection.
Width:
 7 mm
Diamond:
0.096ct w/si
Gold content:
18K
Delivery time:
4-6 weeks