Ring trends 2019
New trends in engagement and wedding rings
Planning to get engaged or married in 2019? Get ahead of the fashion curve with the latest ring trends!
Gold and carbon fibre are hot trends right now
The most common ring materials are still classic gold and platinum. But other less conventional materials are found among the news. E.g.  Carbon fibre rings, ceramic rings, titanium rings, and even gold fusions with carbon fibre.

The new trends
Materials and colours: Simple, two-colour rings are very trendy and popular right now. Talking about gold the new comes as colours, black and pink gold are hot trends. Pink gold comes in a softer shade than the one we have seen before, an elegant pink champagne colour tone.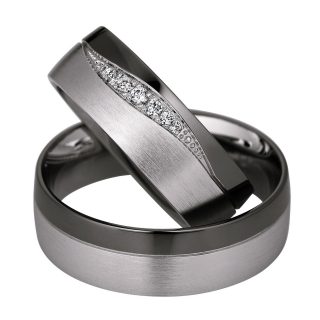 White gold is still very popular, but platinum, steel and titanium are going strong. The advantage of these materials is that they are very resistant and long lasting without special care. Silver is always a good choice if you are looking for white metal but looking for a budget alternative. Beautiful silver rings are always in fashion and can be very exclusive when a small diamond is added, or when silver and rosé gold are combined.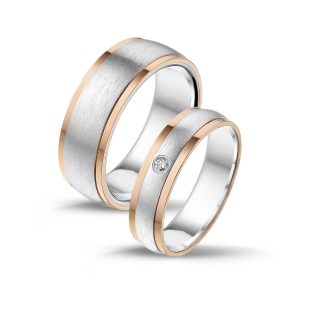 Classical wedding and engagement rings alright, but the old fashioned plain gold rings are not what most of us choose today. Neither are halo, solitaire rings nor side stone rings, of course, these are the most expensive alternatives, but the reason seems to be that people prefer simple, stylish rings in other exiting materials that feels right "everyday", simple in this case does not at all mean boring, it is all about modern design.
The classic engraving with the wedding date or the couple's names has got strong competitors. It has become very popular to engrave a personal message and by 2019 we will see many rings with laser engraved fingerprints, both on the inside and the outside of the rings.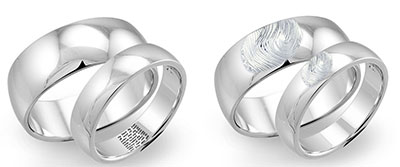 Talking about stones, the classic diamond is always in fashion, but now diamonds also appear in new exciting designs, in an elegant and discreet way where the diamond is not "the jewel·, it is part of the design. We also see a clear tendency for men to choose black or blue diamonds.
A trend that continues to be very popular is to combine two or three rings on the same finger. Stacked wedding rings have been gracing the ring fingers of stylish brides (and non-brides) for years, but we're just now really catching on to the trend. There are so many ways you can wear stacked wedding rings, for example an engagement ring and a wedding ring that seem to belong together, although they are completely different.
Please don't hesitate to contact us if you have any questions, ideas or requests, we can explain more about the options available to make your ring completely unique.