Carbon Fiber Rings – EXPRESSIVE, MODERN & ELEGANT
We at Rings of Sweden are, as you may know, very obsessed with rings in exciting and different materials. We love being able to offer an extra unique range that no one else offers and which cannot be found in physical stores in Sweden.
Some time ago, we saw some amazing carbon fiber rings elsewhere and immediately thought we would like to create a collection of carbon fiber rings for our own brand; Rings of Sweden Collection. And now we have finally developed many beautiful carbon fiber rings that can be bought individually or as a couple. We can describe them in three words: EXPRESSIVE, MODERN & ELEGANT!!!
Carbon fiber – an excellent material
From carbon fiber we have succeeded in creating luxurious rings with a durable and exciting surface and also combining carbon fiber with metals like titanium, damascus steel, rose gold and yellow gold. The metals give a better weight to the rings because carbon fiber is lightweight as a feather on your finger. Nevertheless, carbon fiber is 4 times harder than steel, quite unbelievable! That's why it's a very durable and wear resistant, something to keep in mind if you have a job where you use your hands a lot. Your carbon fiber ring will resist the most.
We are totally in love with these rings and hope that you also will think they are amazing. There are two forms of pure coal, a deep black and a pure white, so you will find both black and white rings in our beautiful collection.
Delivery time
Our carbon fiber rings are manufactured per order, just like our other rings; therefore we need some extra time to deliver your rings. It may take up to 4 weeks for these rings and it is because they are a bit extra unique. One thing to consider before ordering is to be sure of your ring size. Because the material is so hard you cannot change the size afterwards.
If you are looking for a black ring, we would also like to recommend our rings in black zirconium, our ceramic rings and our rings in black and white gold.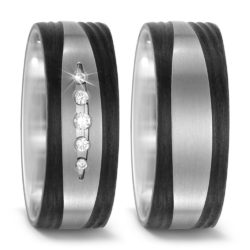 €

373,48 –

€

969,71
Very beautiful rings made of carbon fiber and titanium. They are suitable as both engagement rings and wedding rings. Diamond:  5 pcs, 0.09ct w-si With:  8 mm Height:  2 mm Delivery time: 4 weeks