Black Friday
Black Friday is originally from the United States and is a tradition that has spread all over the world and also in Sweden. Black Friday is a day where shops offer generous discounts and always occur the Friday after Thanksgiving.
Rings of Sweden has of course taken in the trend and will offer discounts on selected collections. Black Friday is the year's absolute biggest shopping day in both physical stores and online around the world. It's a perfect day to shop for Christmas gifts, birthday presents, engagement rings or wedding rings! You may have just found a ring in our shop and now it's the perfect opportunity to buy it. We love Black Friday because it's extra fun to shop then ?
A RING FOR CHRISTMAS
If you plan to give away a ring for Christmas or think about asking the big question for Christmas, we recommend that you buy the ring now so it arrives in time. Christmas is a time when family and friends get together to celebrate, it is also a very romantic time to get engaged, propose marriage or simply to declare true love.
Before you do so, make sure you have the perfect engagement ring in your pocket to make the moment really unforgettable. At Rings of Sweden we have the most breath taking engagement rings for romantic proposals this Christmas.
Choose a unique ring for your darling. For an extra romantic Christmas, choose unique and personal gifts from Rings of Sweden!
Our selected collections for Black Friday
are clearly all our black rings!
---
Nightline – Rings in Black Gold
Nightline is an elegant and sensual collection from Saint Maurice. Beautiful engagement rings or wedding rings characterized by a high contrast between white gold and ruthenium-coated gray gold (black gold), matt and polished surface, and sparkling w/si diamonds. Black gold is obtained by mixing white gold with palladium, the mixture becomes a dark gray which is then strengthened by adding three layers of ruthenium. We offer 1 year warranty on all rings from the Nightline collection.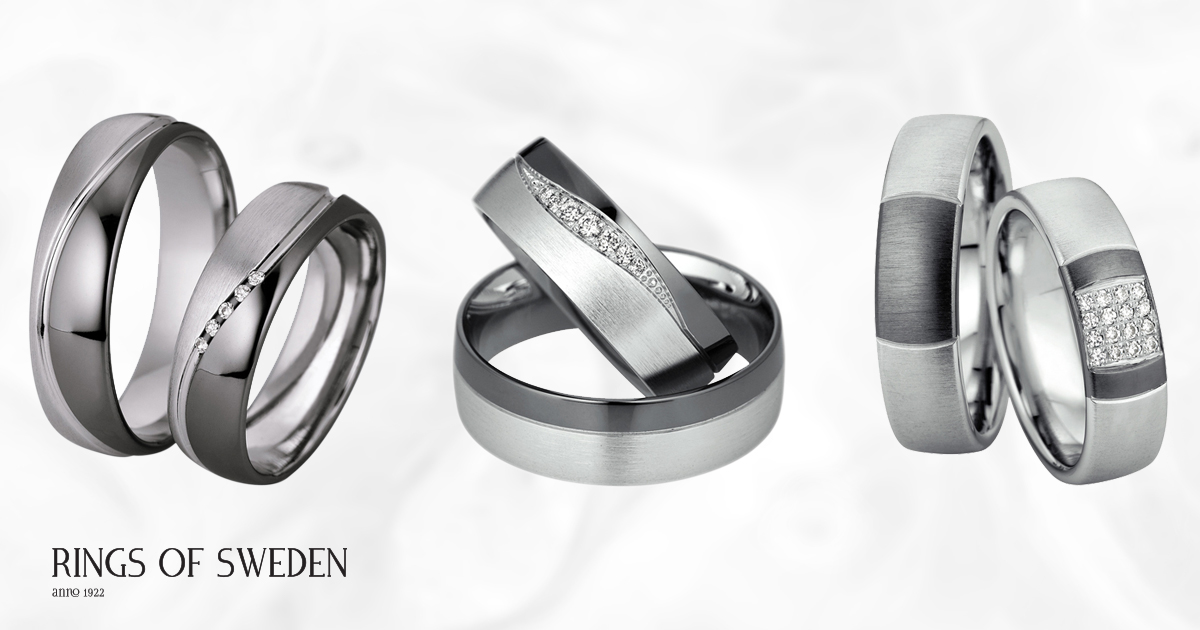 5% DISCOUNT WITH CODE:
BLACK-GOLD-FRIDAY
---
Lovers & Friends Ceramic – Rings in Ceramic
Do not miss our popular ceramic rings. The rings are a unique combination of black and white ceramic, steel and cubic zirconia stones. Did you know that ceramic is one of the most durable materials in the jewellery market?
20% DISCOUNT WITH CODE:
BLACK-CERAMIC-FRIDAY
---
Black Zirconium – Rings in black zirconium
Exciting exclusive rings made of the wear resistant material Zirconium. Black Zirconium is obtained from the metal Zirconium. Its black surface is created when the metal is heated to extreme temperatures for several hours and a chemical reaction occurs with air. The black surface can then be polished to gloss or matte. You can sand down to the silver colour and get two tones on the ring. It is also possible to mix with other metals like gold and silver. These rings are completely allergy free. You usually engrave the ring before creating the black surface and the engraving becomes white, if you engrave the ring when it is already black, the engraving turns black, yet visible. All of these rings can be changed in width up to 7mm at no additional cost. These rings are perfect as wedding rings, engagement rings or even as a daily accessory.
10% DISCOUNT WITH CODE:
BLACK-ZIRCONIUM-FRIDAY
---
Carbon Fiber – Rings in Carbon Fiber
EXPRESSIVE, MODERN & ELEGANTA
From carbon fiber, we create luxury rings with a durable and exciting surface. There are two forms of pure coal, a deep black or a pure white. In this cool collection, carbon fiber is combined with titanium, damascus steel, rose gold or yellow gold.
10% DISCOUNT WITH CODE:
BLACK-CARBON-FRIDAY
---