Unique engagement rings
Do you think engagement rings feel old-fashioned or outdated? When you see these unique engagement rings, you will change your mind. Forget the classic gold ring, if it's nothing for you, you will want to say yes I do a thousand times.
More than just rings: your unique engagement rings
Discover our luxury engagement rings, wedding rings and pair rings, they are made to celebrate love, they are designed to become valuable symbols to wear and admire your entire life. All our rings can be made according to your wishes. We can change yellow gold to black, combine metals and carbon fiber, zirconium and ceramics. There are no limits, let your imagination run wild and ask us to create your dream, if it is not already in one of our ring collections. The materials are important to determinate the price of a ring, but if you fall in love with the design of a silver ring, but you want it in gold you can always ask. In many cases we can make the rings exactly as you wish. We can do the same thing if you just love a ring you can't afford, we can always suggest alternatives. Don't hesitate for a second. Contact Us! We know everything about rings!
Carbon fiber rings
Carbon fiber rings are cool, modern and elegant. They look great both on men and women. Carbon fiber combines perfectly with titanium, Damascus steel, rosé or yellow gold. Carbon fiber is four times stronger than steel and comes in two colours, deep black and pure white, with or without diamonds.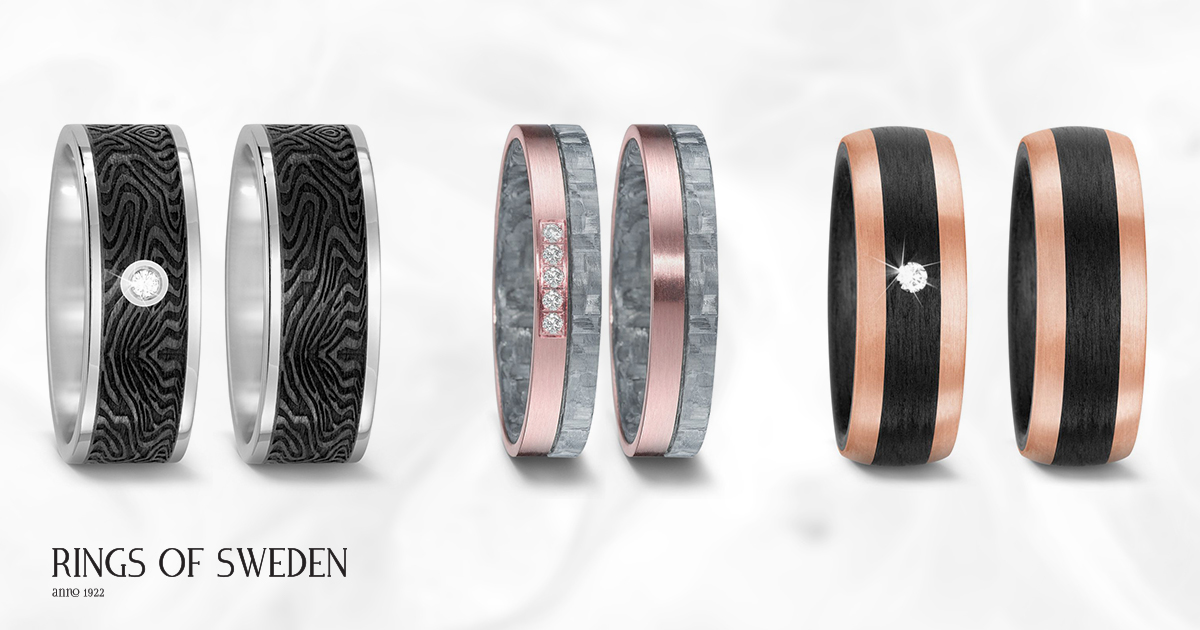 ---
Zirconium rings
Zirconium is a light gray, almost white, metal, and similar to titanium. It is very low weight, which makes the rings comfortable to wear; it is also skin-friendly, as it is nickel free and therefore completely hypoallergenic. Zirconium is used mainly in nuclear reactors due to its resistance to high heat and its corrosion resistance. When zirconium is heated, the exposed part of the metal oxidises and becomes black. Zirconium rings are scratch resistant; the surface can be polished glossy or matte. Zirconium rings are not always black, the metal's light gray colour is beautiful and it can be treated to display a variety of beautiful colours, anodized zirconium rings.
---
Ceramic Rings
Ceramic rings are incredibly shiny and stylish, perfect jewellery for both women and men. Ceramics have a high melting point which means they are very resistant and never bend out of shape. Ceramic jewellery is also hypoallergenic and a good option for those who have problems to tolerate metals. Ceramic rings are very affordable as well and lasts forever. On Rings of Sweden we have many models that combine black and white ceramic with steel and cubic zirconia stones. Luxury rings for a little less money.
---
Rings in black gold
Black gold rings are for brave couples. They attract attention, are eye-catching, and often get compliments. Everyone may not dream about an engagement ring in black gold because it's something very different from what we are used to. Colourless diamonds makes a beautiful contrast against black gold and will never become out-of-date. Did you know that only 5% of men wear an engagement ring, but 67% of them wouldn't mind having one? Black gold is absolutely an elegant and trendy alternative.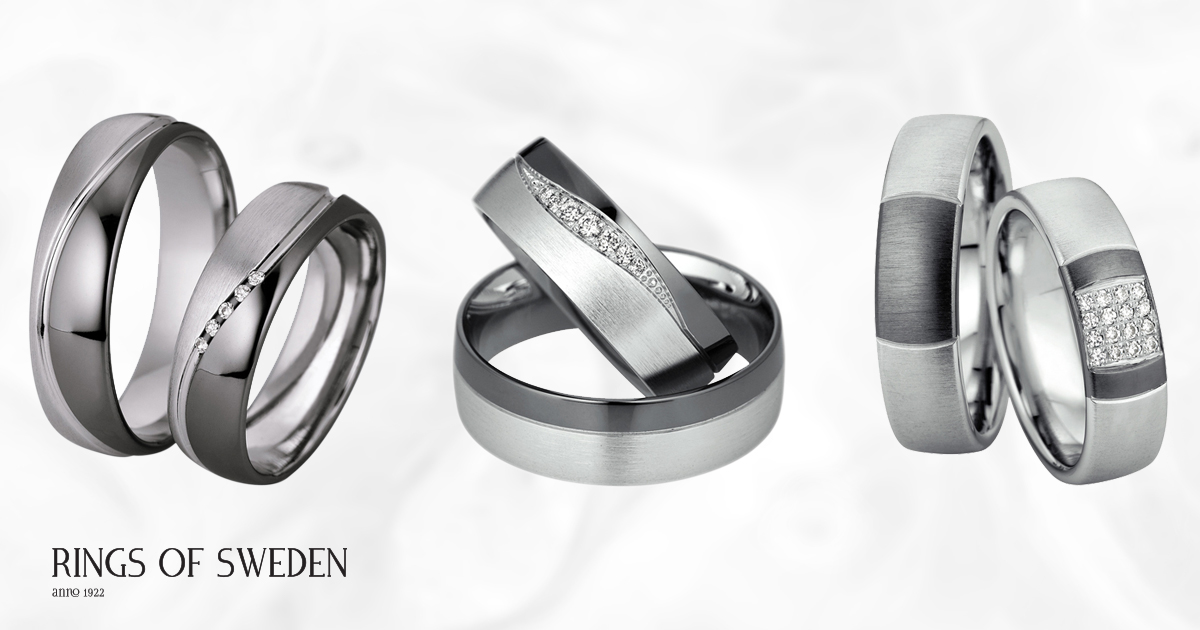 ---
Classical or different rings?
Would you like to design your own ring?
What is most important to you? Price, material?