Top alternatives to gold
You want beautiful rings that will last, but you don't know which material to choose. How do you decide? Gold rings may be the first thing that comes to mind when someone mentions engagement rings or wedding bands, but gold isn't the only option when choosing rings. The price of gold has also gone up a lot recently, almost 56% in the last three years, making gold and platinum rings the most expensive options. Do you want to discover watchful alternatives to gold rings? Read on!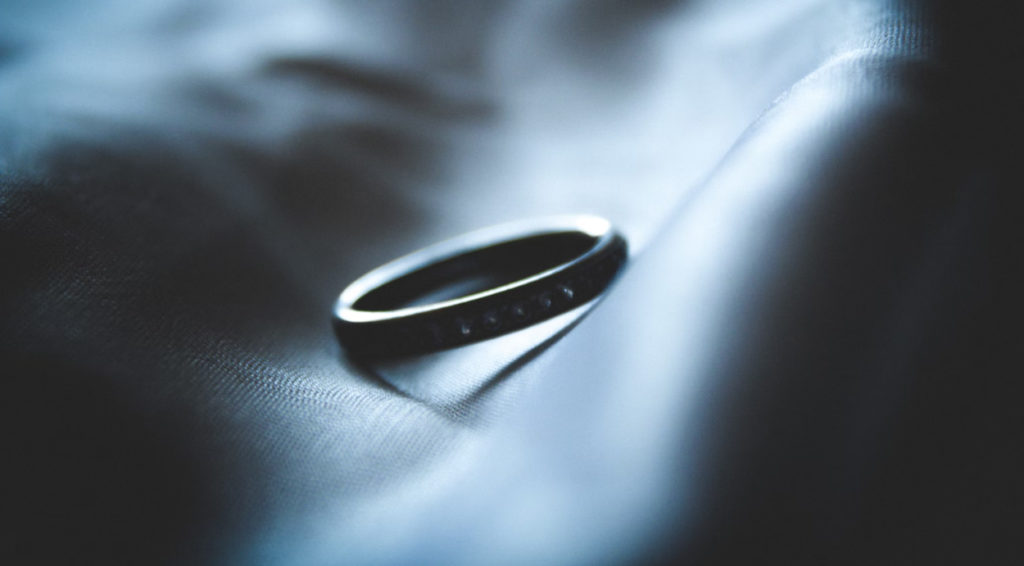 Carbon fiber, black zirconium and titanium
Engagement and wedding rings should last a long time, so you need to consider the quality and material. But just because they're high quality doesn't mean they're expensive. Gold is a soft, expensive material that you must be careful with if you don't want it to get scratched and lose its shine and shape. Materials like carbon fiber, black zirconium and titanium, on the other hand, are very durable, modern and affordable options. Black rings made of carbon fiber and zirconium are the most trendy and beautiful, both for her and him.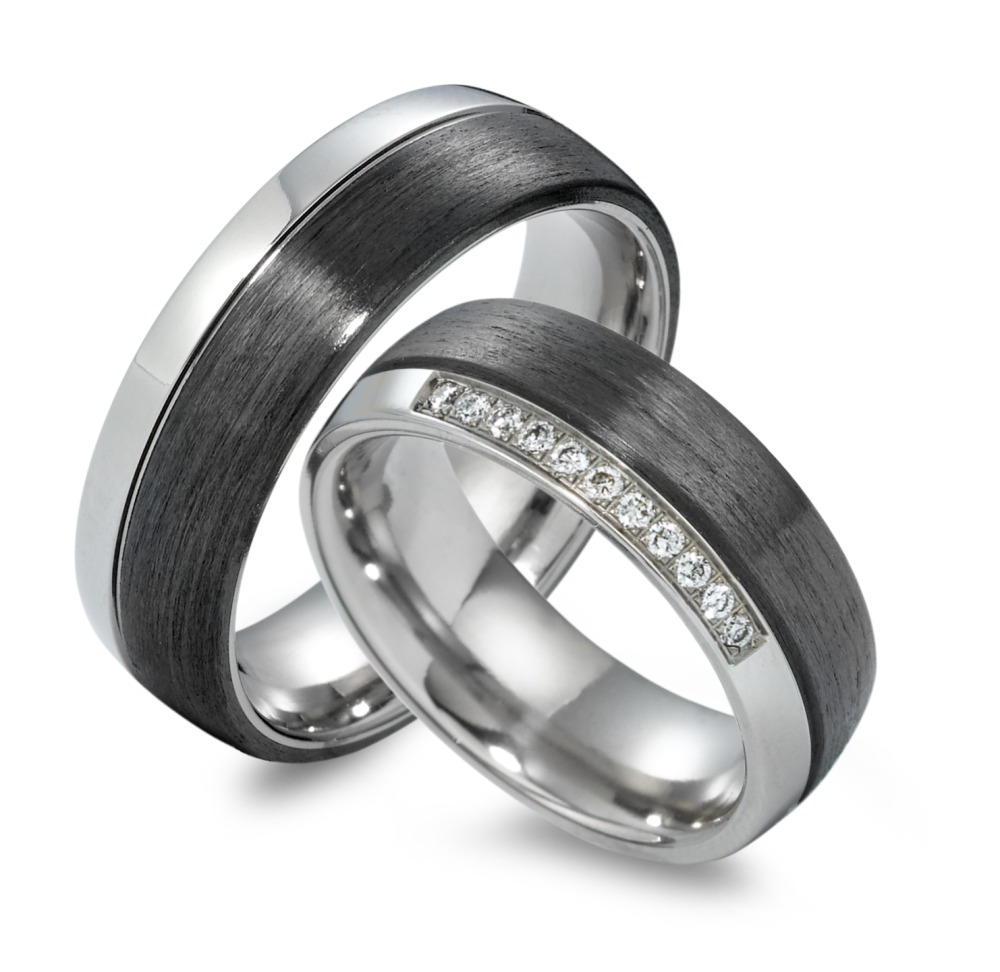 Carbon fiber rings
Carbon fiber rings are the trendiest rings of all. It is a relatively new material used in the production of engagement and wedding rings, many couples ask us for them now. Carbon fiber is one of the lightest materials on earth. Carbon fiber rings are cool, different, elegant and very modern. 
Carbon rings attract attention
The intense black colour of carbon fiber rings, their extraordinary resistance to wear and tear and their extraordinary lightweight make them a whole new category of jewelry. Carbon fibre rings are very comfortable. If you don't like the weight of wearing rings on your fingers, they are undoubtedly the best choice. There are also gorgeous white carbon fibre rings that look great on suntanned summer fingers. You can see all our carbon rings here >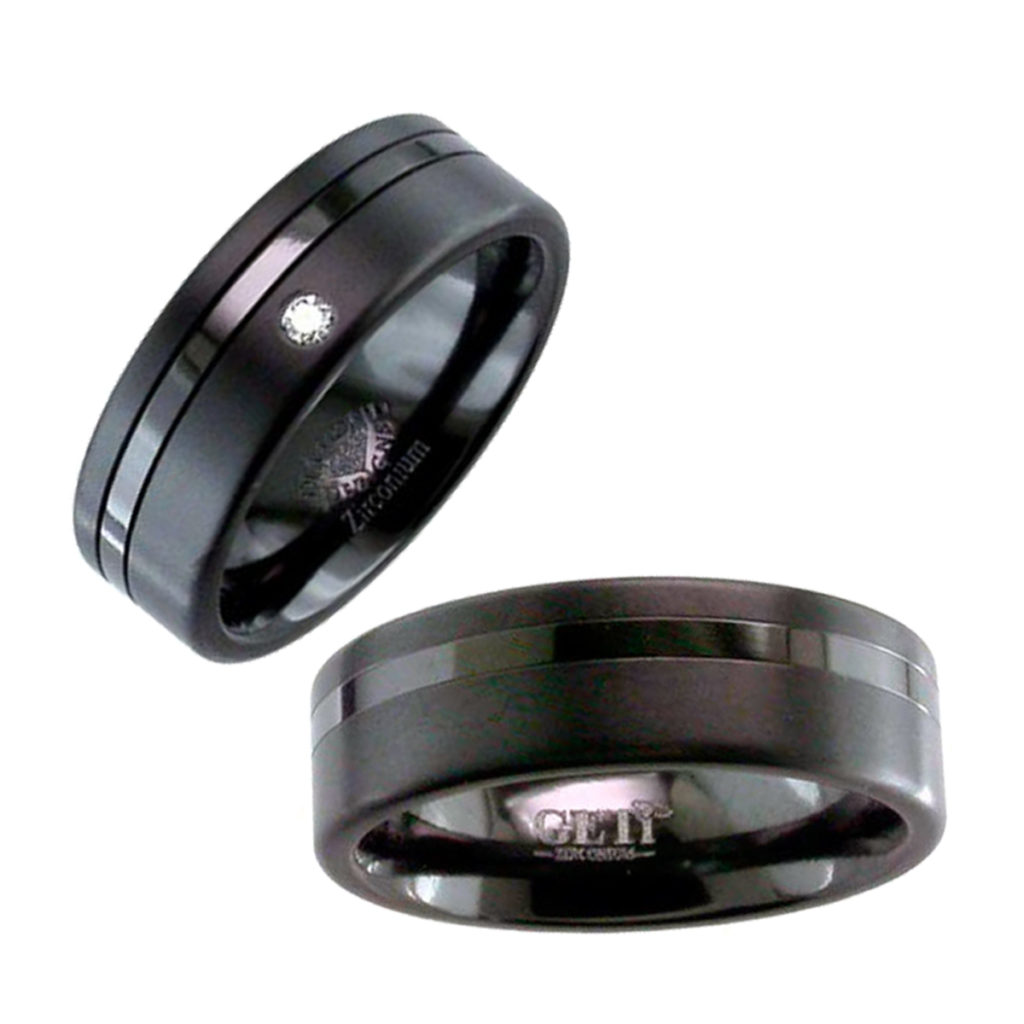 Black Zirconium rings – Lightweight, durable and something out of the ordinary
Zirconium rings have an intense, deep black colour that is retained over time. Although, in its natural state, zirconium has a silver-grey colour similar to steel or titanium. To achieve the beautiful deep black colour it is heated to a very high temperature. Black zirconium rings are highly scratch resistant and do not cause allergies. We make absolutely unique rings with black zirconium, perfect as engagement and wedding rings. 
Titanium
Titanium is extremely light, durable and a very economical alternative to white gold and platinum. Titanium rings are hypoallergenic. Titanium is an exotic metal and is some of the most durable and long-lasting materials we use for wedding rings. A titanium ring will last a lifetime and withstand the rigours and demands of everyday life. If you want an absolutely personalized ring, you can choose one of our laser engraved titanium rings with your own message or name. Click here to see all the titanium rings >