Titanium rings for modern men
Titanium rings are not only durable and long-lasting but also remarkably light. Titanium has the highest durability-to-weight ratio of any known element.
Incredibly strong and durable
A titanium ring will never bend, crack or lose its shape. That makes titanium rings the best choice for men who work with their hands. A ring made of titanium is much more durable than a similar ring made of gold, silver or platinum. This stunning titanium ring from GETi is called PLAIN LXVII. 
A concave Titanium ring with polished edge and satin main section.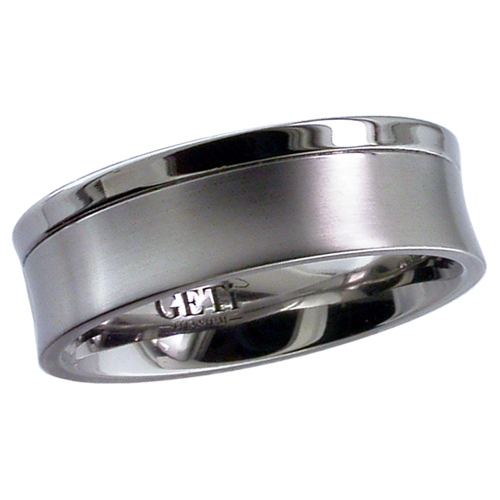 Titanium rings are lightweight
Strong as steel, but light as a feather. Titanium rings are exceptionally comfortable to wear. They are the perfect choice for men who are otherwise not so fond of wearing jewellery. A titanium ring is so light you'll forget you have it on your finger.
The ring in this picture is called MULTICOLOR XV. It is a half domed titanium ring with a 1,5mm wide 18-carat red gold groove in the middle of the ring.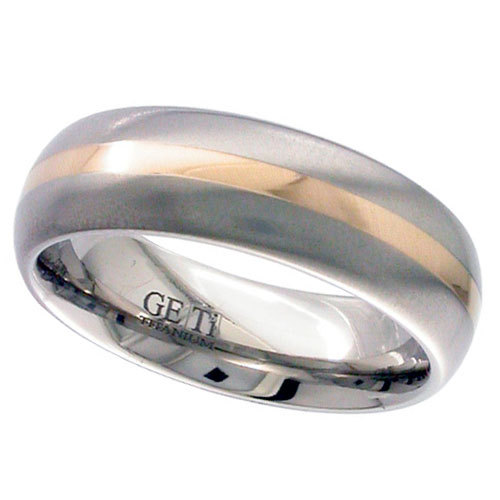 Scratch-resistant titanium rings
Titanium is very scratch resistant but is, of course, not unbreakable. It is much more resistant than gold, silver or platinum. Scratches on titanium rings tend to be shallow and only superficial, which means they can usually be polished away. Gold, silver or platinum rings, on the other hand, are not as hard, meaning that the scratches tend to be deeper and much harder to polish.
The ring in the picture is called PLAIN LWW. It is a Titanium ring with heavy radiused edges and linished finish.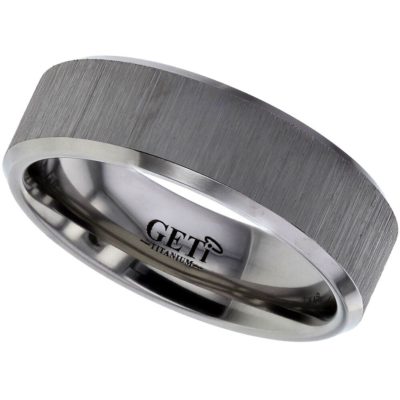 No risk of rust or corrosion
Because titanium is inert and does not react to chemicals, there is no risk of your titanium ring rusting or corroding. You can wear your titanium ring by the pool or the sea. You can wear it when showering or washing up! But it's not something we at Rings of Sweden recommend you do daily; no ring is indestructible. If you want it to stay like new for many years, it's best to avoid unnecessary wear and tear.
The ring in the picture below is called  LASER LXV DAMASCUS. A flat profile Titanium ring with laser engraved Damascus style detail.
Titanium rings with a unique design
Titanium rings are naturally silvery in colour but come in a wide range of colours and styles. Our titanium rings come in many different designs with inlays of beautiful patterns and other materials. 
The ring in the picture below is called LASER XXII. It's a titanium ring with laser engraved roman numerals included in the price.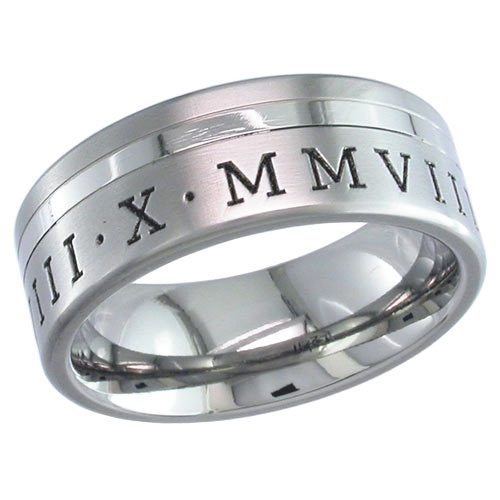 Carbon fiber and titanium
Titanium and carbon fiber match perfectly together. Carbon fiber is also a very light and durable material. Rings that combine titanium and carbon fiber are stylish and original. Carbon fiber is available in white and black that make a great contrast to the silver titanium colour.
CARBON FLAT ONE: A beautiful ring made of carbon fiber and titanium. They are suitable as both engagement rings and wedding rings.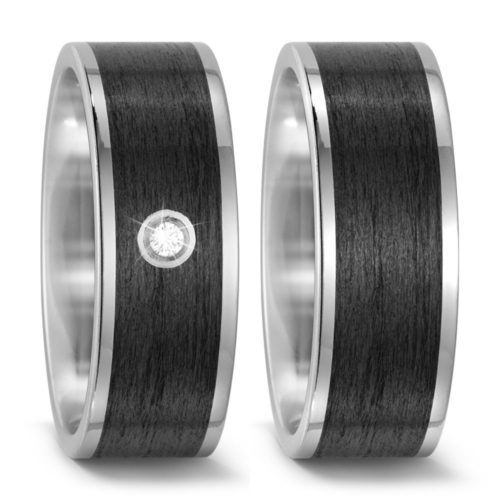 Laser engraving
A beautiful engraving makes your ring unique and personal. We have many laser engraved titanium rings in our collections. We can also laser engrave your ring both on the inside and the outside. Choose from different styles, symbols, or a fingerprint. 
The ring in the picture is a titanium ring with double grooves and a standard engraved rune inscription meaning "Love Friendship Life". You can choose the engraving yourself. We will translate your text. This ring is called LASER LX.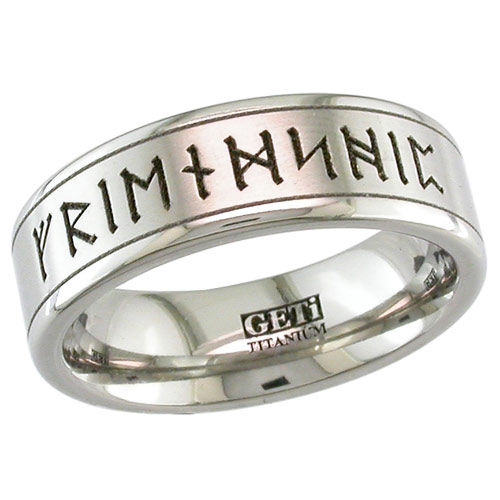 Cool and different titanium rings from Geti with laser engraved designs, patterns and Roman numerals. On the rings that are engraved with text or Roman numerals, you can choose your own names, words or dates. Geti's rings are designed to be comfortable to wear daily, for example as a wedding or engagement ring. Therefore, they are perfect for men who are not used to wearing rings. Titanium is an exotic metal and is some of the most durable and long lasting materials we use for wedding rings. A Titanium ring should last a lifetime and withstand the rigors of everyday life.
❤️️
Don't forget that you can buy the rings first, and measure your finger size with our ring gauge that you get with your purchase!
☞ GIVE SOMEONE A BEAUTIFUL RING FOR CHRISTMAS