Diamond rings for men
There have been many discussions about the subject "diamond rings for men" and whether men choose an engagement ring or wedding ring with diamond.
We at Rings of Sweden definitely think it's nice even for the man to have a diamond ring! It is also becoming more popular for men to have engagement rings and wedding rings with diamonds. But that does not mean that the man should wear a solitaire ring with a 1ct diamond on his ring finger. Usually they are more discreetly designed than women's, but tend to look heavier than the female version by width and height and a small diamond, maybe in black. Diamonds are often related to the stamina of eternal love, but reflect hardness and strength – which is a perfect symbol of men's jewelry. The diamond is created by nature and consists of hard-pressed coal and is one of the world's hardest materials.
Would you like to know more about diamonds you can read about them here.
Our range
We offer a wide range of men's rings, which are produced per order for each customer. Therefore, it is possible for us to change the design of the rings according to your own wishes, such as to insert the ring with a diamond. If you have your own idea, we would like to hear about it. Diamond rings for men do not have to be made in gold. We offer cool materials like black zirconium, ceramics and titanium. If you are unsure of which material to choose, please feel free to contact us before. We have a long experience in helping customers choosing the right rings, regardless if you are looking for engagement rings, wedding rings or rings for everyday use. You can also read more about the different materials and its properties here.
Popular diamond rings for men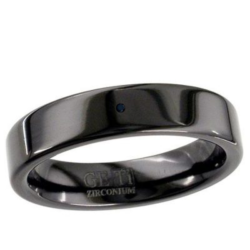 €

400,72
Flat profile black zirconium ring with a polished finish. The ring is set with 4 x 0.015ct black diamonds (1.5mm in diameter). The diamonds are set with equal amount of space around the ring. Positions like north, east, south and west or like the clock positions 12, 3, 6 and 9. Shipping time: 4 weeks