Allergy-friendly rings
Many people are allergic to certain metals and materials. An allergy is nothing but a skin reaction that causes discomfort such as itching, redness and dermatitis. If you know that your skin is sensitive, you can choose from many of our completely hypoallergenic rings.
Allergy to gold and silver: is it possible?
Many people claim to be allergic to gold or silver earrings, chains or rings. Are you one of them?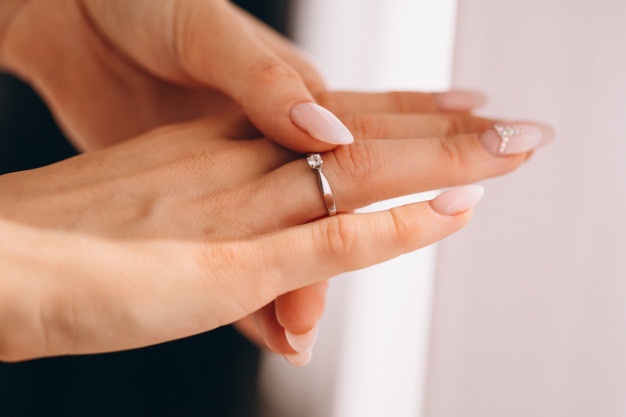 Allergy to gold and silver
It is unusual to develop an allergy to these metals when they are in their purest form. And it is rare for a piece of jewellery made of 18-carat gold or sterling silver to cause an allergy, but it is not impossible. The problem can arise in the case of alloys (the addition of other metals to harden the jewellery). These alloys sometimes use metals that can cause allergies, such as copper, rhodium, nickel or zinc. The most common allergies are zinc and copper. Quality jewellery made in Europe never contains nickel or zinc.
Allergy to white gold
White gold rings have a gold plating with another metal called rhodium. Rhodium is used in white gold jewellery to obtain the bright white gold colour. White gold itself is a little yellowish and is not as beautiful. Some people are allergic to rhodium. 
These allergies occur in many cases when wearing earrings, as the ears are a sensitive area, and the jewellery is more in contact with the skin than in other places.
Platinum 950 is a hypoallergenic material. The beautiful platinum rings pictured below are called SECRET. See the rings here!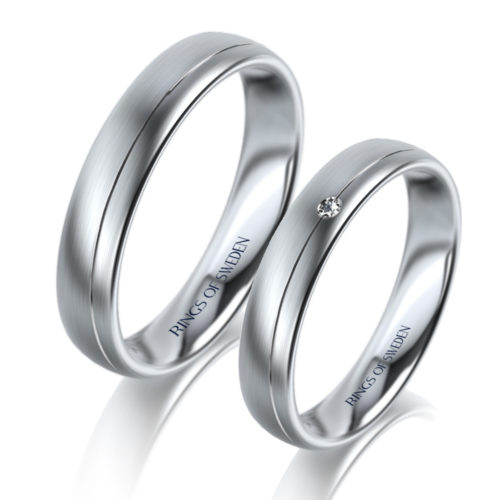 How to avoid these allergies
Wear unalloyed jewellery. 18-carat gold and 925 sterling silver are considered hypoallergenic, so they are unlikely to cause skin problems. Therefore, it is wise to choose jewellery that is free of metal alloys to avoid adverse reactions.
Hypoallergenic options
It's as simple as choosing jewellery from materials that are compatible with your skin. So if you are allergic to silver, you can wear gold jewellery and vice versa. Do both precious metals cause you discomfort? If so, you can always choose platinum 950, carbon fibre, titanium, zirconium or ceramic rings, all of which are hypoallergenic and beautiful and durable materials.
Alternatives for allergy sufferers: Which metals are hypoallergenic or low-allergenic?
Gold
The hypoallergenic metal par excellence is the most recommended because it is suitable for almost all allergy sufferers. Gold does not cause allergies, but what can cause them are the alloys (mixed with other metals) used to process the gold. And if the alloy contains nickel, it is likely to cause an allergy.
The gold ring on the picture is called EDGE 8mm POLISHED.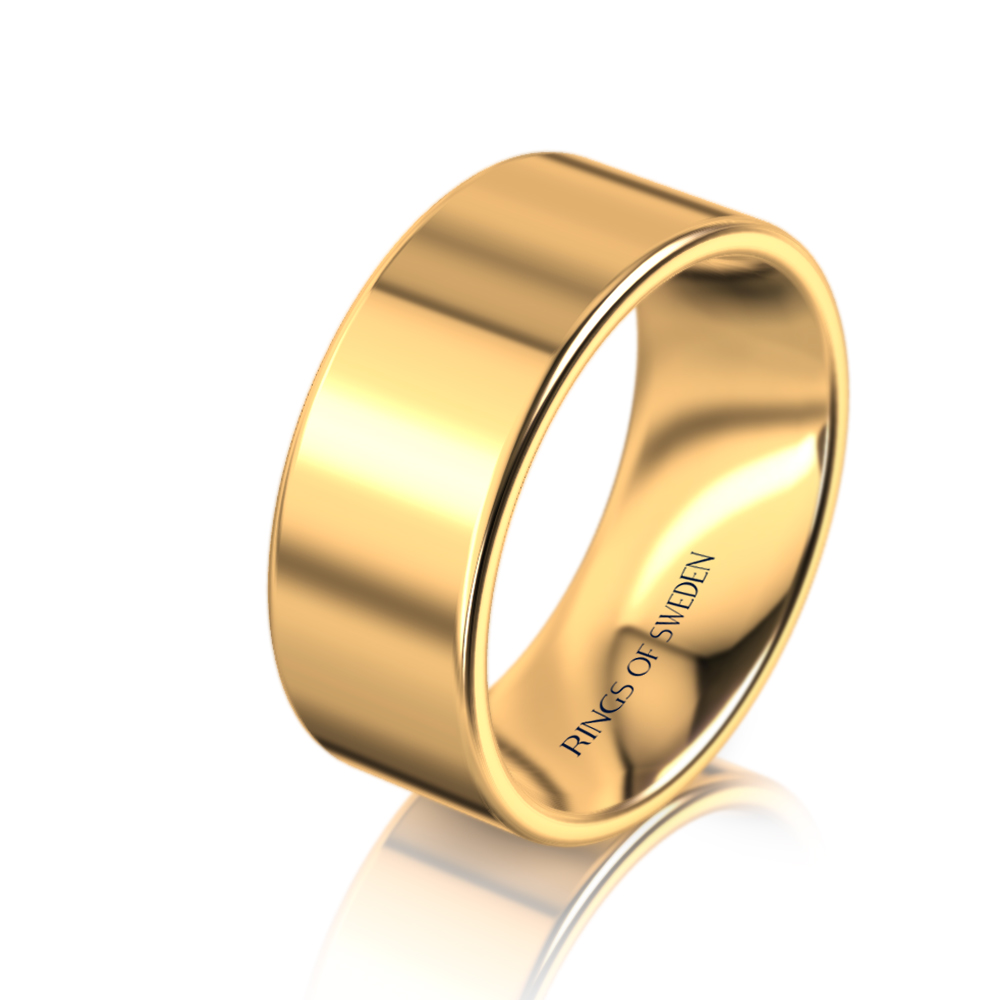 Silver Rings
950 silver contains more than 90% silver and 5% other metals. Because of its high purity, it may therefore be a good choice for people with allergies. The allergenic effect may be avoided or reduced depending on the silver quality and if the silver has a plating.  
The ring on the picture is SILVER DIAMOND FIVE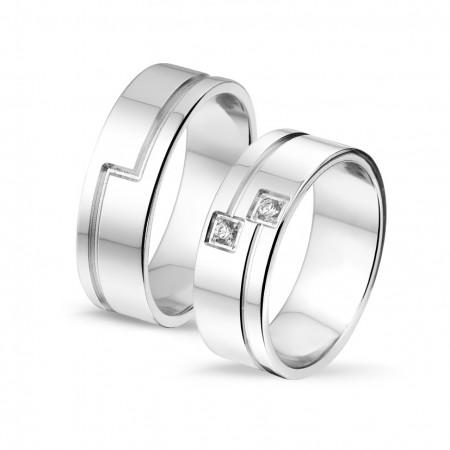 Steel Rings
Stainless steel (surgical steel) is hypoallergenic and a good choice for sensitive skin.
Titanium
Titanium is a lightweight, durable and hypoallergenic material. It is an ideal material for anyone with allergies to metal.
This beautiful titanium ring from GETiis called PLANE XXVIII.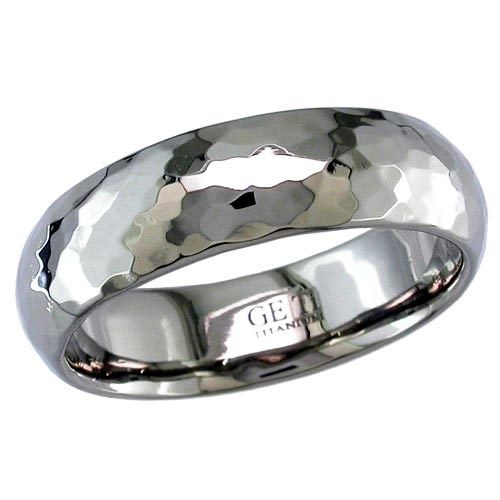 Zirconium
Zirconium is perfect for wedding rings because it is incredibly durable and has strong corrosion resistance. Zirconium is a scratch-resistant metal. It is completely hypoallergenic. Zirconium is a lightweight material that feels comfortable on the finger. Zirconium rings are available in a grey-white colour and deep black shades.
The zirconium ring on the picture is RELIEVED BLACK XII.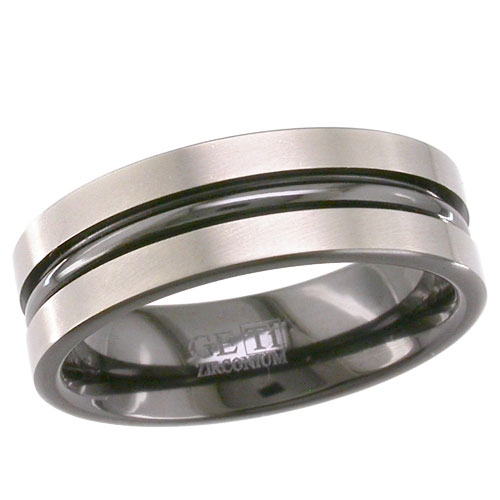 Carbon fiber
Carbon fiber is a hypoallergenic material and is perfect to manufacture rings. Carbon fiber is a very light material, yet incredibly durable and hard-wearing. Carbon fiber is four times stronger than steel. With carbon fiber, we create luxurious rings with the most amazing surfaces and different designs. There are two forms of pure carbon, one is deep blackish, and the other one is pure white. We combine carbon fiber with precious hypoallergenic metals like titanium and Damascus steel,
These unique carbon fiber rings are called CARBON ROSE HOPE. See all our carbon fiber rings here!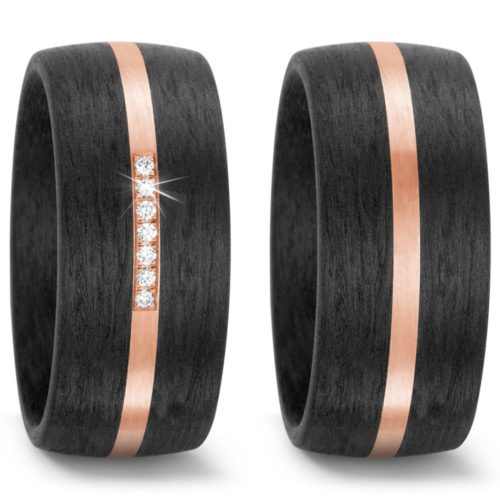 Ceramics
Ceramic rings are a different option. Rings in Black and white ceramics are popular. Ceramic jewellery and ceramic rings are composed of cubic zirconia, the same material used to make artificial diamonds. That means that the ceramic rings do not contain any metal at all, it can't get any more hypoallergenic!
At first, you might think that ceramic rings are fragile, but they are very scratch resistant and durable, just like diamonds. 
The ceramic rings on the picture below are CERAMIC & STEEL EIGHT.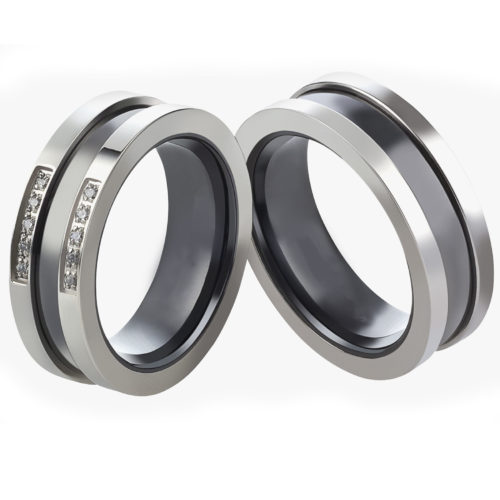 Platinum 950
In its pure form, platinum is soft and malleable. But it becomes very resistant when mixed with other metals. Pure platinum jewellery is also a good choice for those who suffer from allergies, hypersensitivity to platinum is extremely rare. Platinum rings are very exclusive and durable.
 In the picture: An elegant diamond ring from the collection Rings of Sweden. See all our diamond rings here!