Rings: Mass production vs Unique Craftsmanship
When you have decided how your wedding or engagement ring should look like and start to look around you will realize that it is not that easy. In fact, two almost identical rings can differ very much in price. Why? What makes the difference? Why would you pay more for a ring that looks exactly the same as the one you saw on an Internet shop selling jewellery made in China or Asia?
Cheap versus expensive wedding and engagement rings
A unique hand-made ring with high quality is usually more expensive than those that are mass-produced, and not just because it is unique and hand made. A lower price also indicates many other things. It's all about quality. Saying "It's worth its weight in gold" really applies when it comes to jewellery. Mass-produced rings can result in lower quality as they are rarely supervised by an expert during the process. A ring made by craftsmen never leaves the goldsmith's hands until it is finished, which is why all the irregularities can be detected and rectified.
Many large jewellery shops try to attract customers offering gold and diamond rings at very low prices. These rings are often very thin or hollow, and with low quality diamonds. It is a big mistake to think that you can buy a "cheap" diamond, quality gems are never cheap. These rings can be just as beautiful as a more expensive quality ring, handmade made by a trusted goldsmith, at first sight, but they will never remain beautiful for many years. Cheap gold rings that the big jewellery stores sell are not what they seem to be. When you buy a ring from us you can be sure that what you purchase really is genuine and of the best possible quality. Imagine this scenario: Has your wedding ring become dented? Yes, well, we bought the rings very cheap from "Gold and Bargain".
Hollow rings are much weaker than solid rings, and will not withstand the daily wear and tear. A hollow ring is of course worth its weight in gold, it weighs less and may cost less, but it will only fool your eyes, and is not worth as much as it seems to be. It will easily become dented, cracked or broken. Our rings are not made in molds, they are made from solid cylinders that give the highest possible durability. Pure gold is never used because it is a very soft metal. Jewellery is made of alloys of gold, that is, gold that has been mixed with other harder metals. If the gold is cheap it is likely that it has been mixed with inferior materials and can also have traces of allergenic substances. Karat with K stands for the purity of the gold. 18 karat is the most common gold, it contains 75% pure gold, but jewellery made of 9, or 14 karats gold are also found on the international market. 24 karats are considered the purest gold, 99.9%. The gold colour varies greatly depending on the alloy; white gold is made with the same precious metal as yellow gold, but alloyed with white metal that prevents the yellow colour from showing. One of the trendiest gold colours right now is black. Surprised? Read more about black gold: Click here!
THE QUALITY OF THE DIAMONDS
When it comes to diamonds, one should also know that Carat is the weight unit for diamonds, it is called ct. One Carat is equal to 200 milligrams or 0.2 grams. A Carat is divided into 100 parts. A diamond, which is defined as 75/100, weighs 0.75 carat, but this is not directly related to the size of the diamond, or to the value of the stone. It is easy to believe that a diamond with a larger diameter is more valuable than one with a smaller diameter. Both might weigh exactly as much, but still have different dimensions. The gems value depends much on the colour of the stone, and the cut. So, the value of the diamond is not all about Carats like when we talk about gold where the purity and value is defined by 9, 14, 18 or 24k. Colourless or "white" diamonds are the most expensive; they are called "loupe clean". All our diamonds are conflict-free according to The Kimberley Certification Scheme and we make sure that our jewellery is manufactured under very strict control and always in good working conditions.
Rings that are manufactured using a mold can be factory made on a large scale, which reduces the production cost. Precious metal and gemstones have a real value, the better quality these are, they become more expensive. With metals and stones of lower quality one can manufacture cheaper jewellery. The problem with many of the rings made on a large scale is that they are not made to last, and they can be difficult, if not impossible to repair. An engagement ring of low quality can also be very difficult to match or redo to fit a nice wedding ring in the future.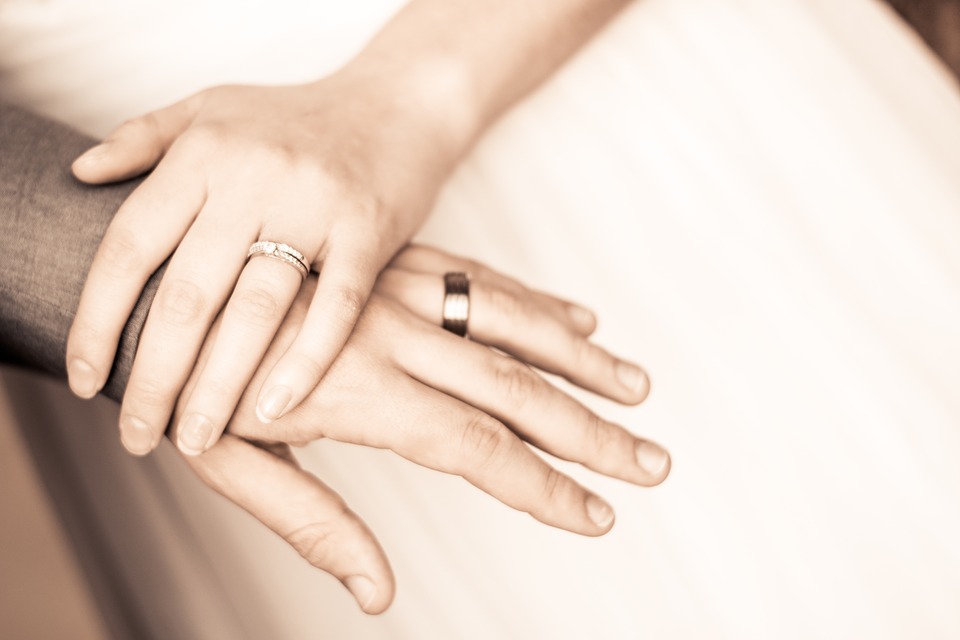 It has happened that our customers have asked us to redo engagement rings when they buy wedding rings from us. In many cases, this is a big problem, especially if the rings that are to be redone are thin, hollow or of low quality. It happens that you can just as well make a brand new ring instead of trying to change an existing piece of jewellery that risks breaking, being damaged in some other way, or that we know will end up in a poor result.
Quality always pays off, if you want something to last for a lifetime, just as your love when you get engaged or married. A quality ring can be a precious family treasure for generations, and a memory for life.
The jewellery you buy from Rings of Sweden is unique handmade craftsmanship, never mass production. We are very careful when choosing our suppliers. We only work with selected, serious suppliers that we know and fully trust. Rings of Sweden stands for quality and design, as well as guaranteed conflict-free, ethical, and Fair Trade diamonds and gold.
What is most important when deciding on a purchase? Quality, design or price?
Do you shop around for lower prices when you already know what you want to buy?
Do you rather buy a product that looks more expensive than it is, even though it is of a poorer quality?