10 tips: How to choose the perfect engagement rings
If you're wondering how to choose your engagement rings, this guide could be your salvation. Engagement rings are much more than just jewellery. They are the symbols of your love and the promise between you.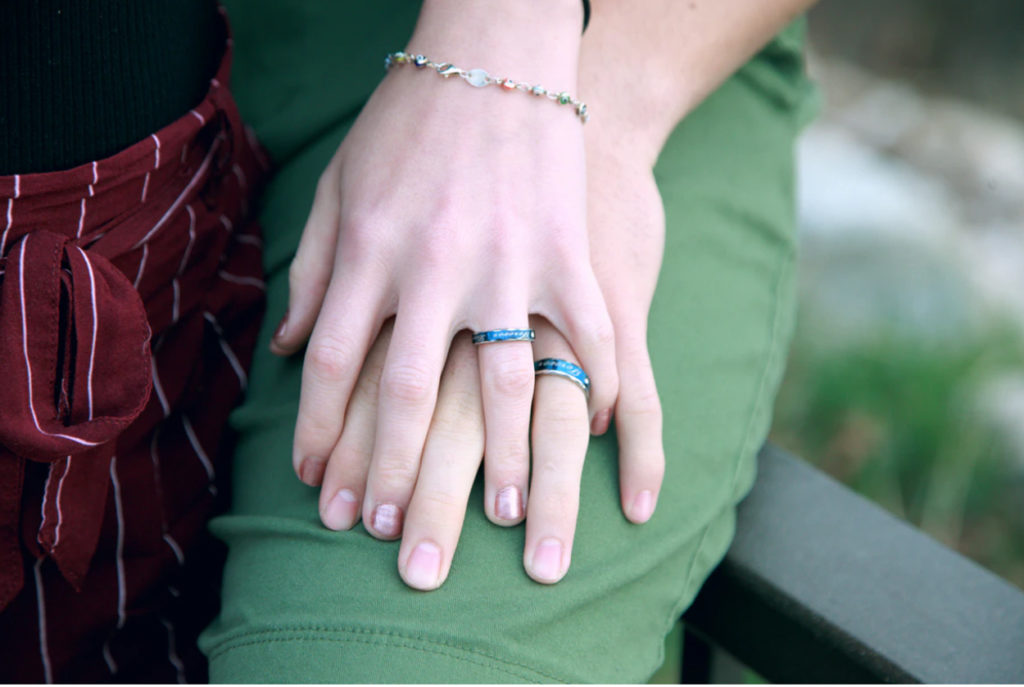 An engagement ring is the most precious thing you can give
Engagement rings are a universal symbol of love, and there are a thousand different possibilities. That's why it's so important to choose the right size, design and material to make sure they suit you, your style and your expectations. Read this guide to know how to buy the perfect engagement ring.
1. Budget
2. Materials
3. Hand size and shape
4. Design: same or different engagement rings?
5. Engraving
6. Measure your ring size
7. Durability and maintenance
8. Order on time
9. Your ring – your style
10. Look for inspiration
1. Your budget
Drawing up a budget is the first step before any purchase. More than ever when you are buying engagement rings. Rings are not something you buy often. And while the price of engagement rings shouldn't be a deciding factor, it's an important thing to keep in mind to finding the right one. 
The prices of engagement rings vary a lot depending on the material, the quality of the material, the design, and the quantity and purity if it is gold rings. After all, remember that all engagement rings are unique because you make them special and because of what they mean. So it doesn't matter if they are cheaper or more expensive, you make the final decision.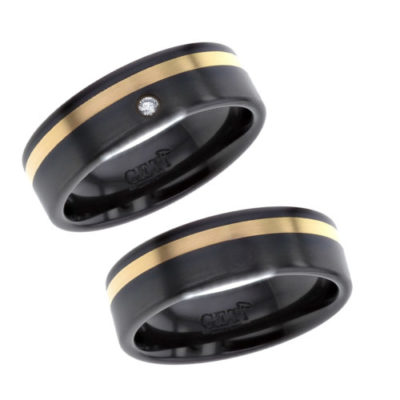 2. Ring Materials
When choosing your rings, the material is another crucial factor. In other words, what kind of metal the rings are made of. Historically, gold in different shades (yellow, white or pink) and varieties (9, 14 or 18 carats) has always been the most common material chosen by couples. Today there is a wide range of materials and precious metals: gold rings, silver rings, platinum rings, carbon fiber rings, steel rings, zirconium rings, ceramic engagement rings, etc. 
Rings in yellow gold are undoubtedly always a classic, but infallible choice, as it never goes out of fashion. White gold engagement rings are elegant, attractive, modern and beautiful. Rose gold rings are jewellery with soft and sophifisticated features, now becoming a hot trend. Rose gold rings have an incomparable romantic pink tone. Combined with black carbon fiber, rose gold is very elegant, both for women and men who want that "little bit extra".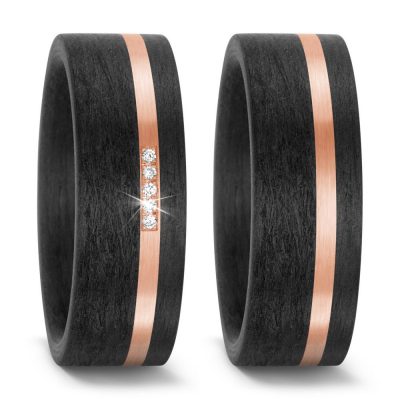 Platinum rings are made from the purest and most beautiful of precious metals. Their hardness makes them ideal for setting spectacular stones. Choose them if you're looking for something exclusive and highly durable, but keep the price in mind that platinum rings are the most expensive.
Titanium rings are perfect for people with allergies or sensitive skin, as titanium is a hypoallergenic material. Titanium is an exotic metal and is some of the most durable and long-lasting materials for rings. Unlike gold, which can wear out over time, a Titanium ring should last a lifetime and withstand all the rigours of everyday life. Titanium combines incredibly well with carbon fiber. Many of our fine carbon fiber rings are made from the two materials to produce unique, durable, modern and stunningly beautiful rings.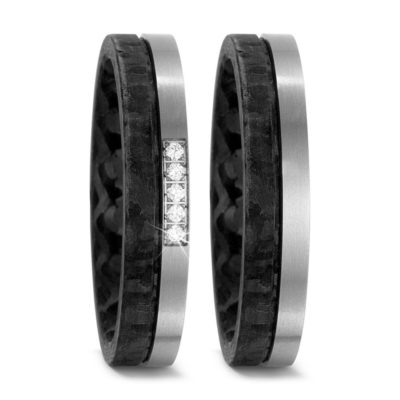 Carbon fiber rings. Carbon fiber is an incredibly durable and lightweight material that never scratches or discolours. They are a relatively modern option among engagement rings. Carbon rings are cool, trendy and stylish. We make rings that combine carbon fiber and gold, carbon fiber and titanium, and of course, carbon fiber and diamonds. 
You can read more about ring materials in this comprehensive blog post. Click here!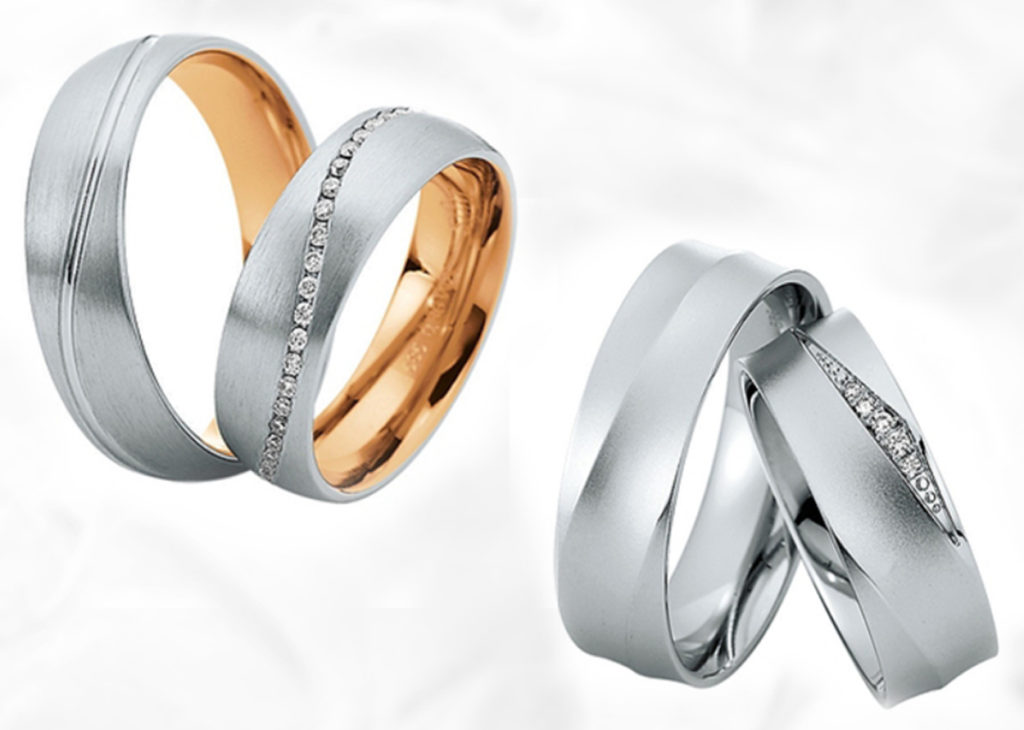 3. Hand size and shape
Looking closely at the size and shape of your hands will also give you many clues when it comes to finding the right ring for you. Before you start looking for engagement rings, you can find out if you have long or small hands and short fingers by measuring the length of your palm and your middle finger. If your middle finger is longer than your palm, you have long hands. Otherwise, it is short. A simple trick that will help you know which ring suits you and which doesn't. As with everything else in life, it's crucial to find the perfect balance. Here are some tips!
Engagement rings for long hands
If you have long fingers and hands, lucky you! Virtually any ring will fit nicely on your hands. 
Rings for small hands
If you have short fingers and hands: choose narrow rings. Our Delicate collection is undoubtedly the perfect choice for short fingers!
Think your fingers are a bit thick? Avoid wide rings!
If you think your fingers are thick, you can compensate for the volume by avoiding big and flashy rings. Choose narrow rings, as they help balance the proportions, and slightly angular and asymmetrical designs can also help. Make sure the diameter of the ring fits so it doesn't press on your finger, as this will always make it look thicker.
Rings for slim hands
Most rings fit well on slender hands, but wide rings are the most appropriate choice, as they create the optical illusion of a fuller hand.
4. The design: same or different wedding rings?
Without a doubt, this is an eternal question for many couples. Traditionally, people always chose to wear the same or similar rings. Today many couples prefer to wear completely different rings, matching their hands, personalities and character. Forget about traditions and follow your own intuition and taste instead.
5. Engraving
One of the most common questions is what to engrave on the rings. It is an important detail that can determine the choice. The options are many and very different. It could be your names, a date, a child's name, fingerprints or personalized laser designs. Usually the rings are engraved on the inside, but many of our rings can also be engraved on the outside, making them absolutely unique.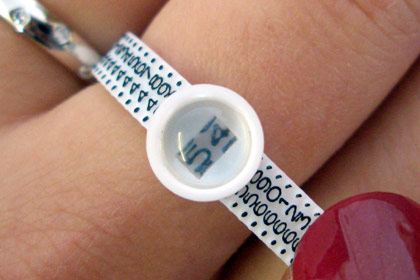 6. Size
The ring must fit perfectly on your finger. It should not be loose or tight. In other words, it should be able to rotate without too much difficulty, but at the same time, it should fit well enough so that it doesn't fall off. Keep in mind that the size of your fingers may vary slightly depending on the time of day and the weather. Read our size guide here >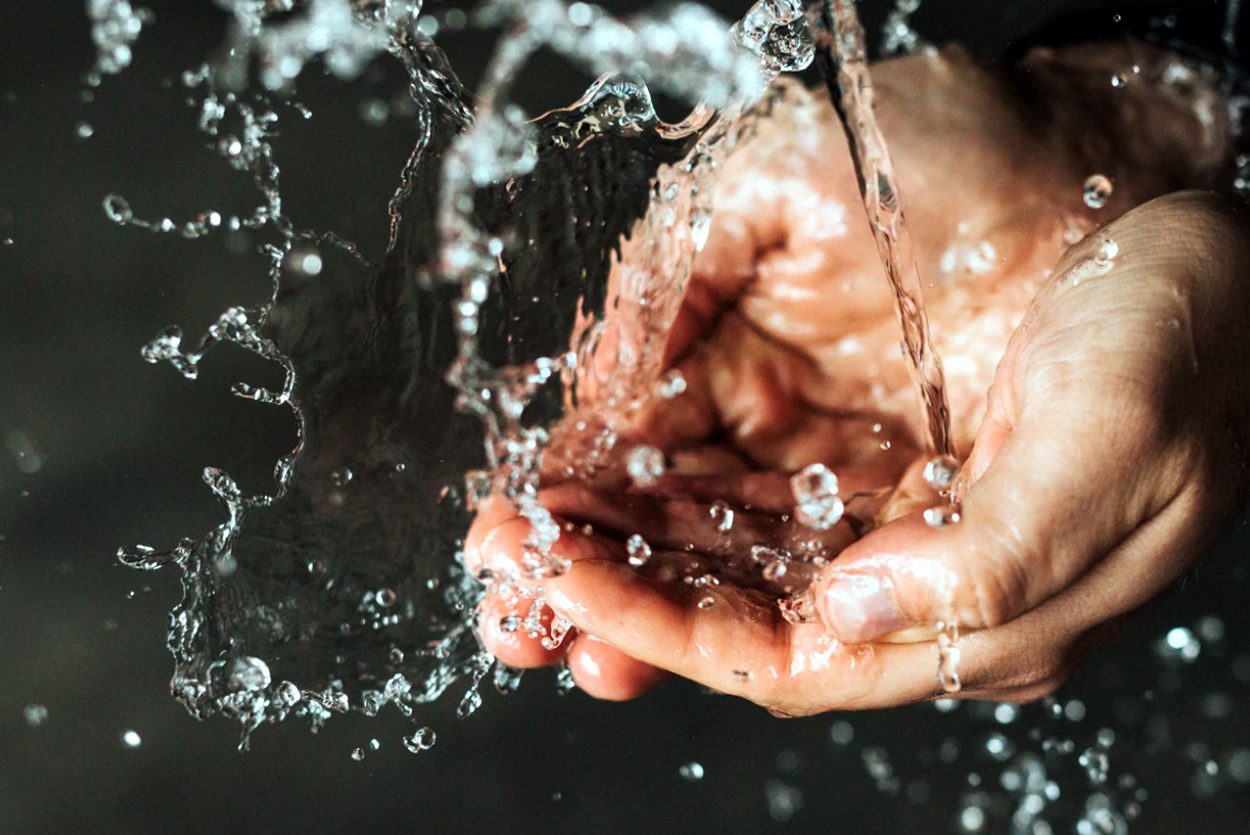 7. Durability and maintenance
Since you wear the ring every day, it is likely to be exposed to dirt and wear and tear. Therefore, you need to consider the choice of the material and clean the ring properly to prevent damage. You can read about how to clean your rings and jewellery here.
8. Order on time
It's best to be well in advance and order rings at least a month in advance. We can deliver some of our rings in two weeks, others may take longer to make. When you place your order we will give you an estimated delivery time, but if the ring is to be engraved and on certain times of the year and dates, there may be a delay. 
9. Your ring – your style
Your taste and personality are most important when choosing a ring. Beyond fashion and other people's recommendations, the style and design of the rings should be what you like and make you feel comfortable. That's why it's important not to listen to others if you don't have the same taste and opinions. Remember that this is a piece of jewellery  you will keep for the rest of your life, which means you should think long-term.
10. Look for inspiration
You can't know what you want if you don't know what options there are. Something that seems obvious, but that you should take into account. So the most important thing is not to settle for the first thing you see. Whether you have something in mind or if you are looking for inspiration, take the time to look at several models and options until you find the perfect rings. You can find a beautiful, affordable, comfortable engagement ring – a ring to fit perfectly on your finger.
ALSO READ:
☞ ENGRAVING: MAKE YOUR RINGS AS UNIQUE AS YOUR LOVE STORY!
☞ THE IMPORTANCE OF ORDERING YOUR RINGS WELL IN ADVANCE