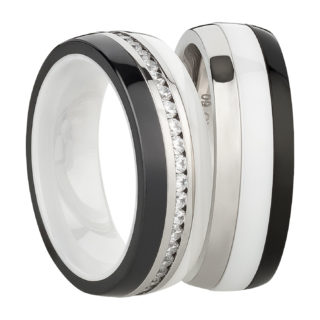 You are probably thinking about cups or plates when you think of ceramics, but there are other forms of uses for the material including unique ceramic rings. However, the best known use for ceramic is the manufacturing of knives.  You can also find it in the manufacturing of exclusive cars which have ceramic brakes.
Some people think that jewellery is always made of some type of metal like gold rings or silver rings. Just as people used to think that all wedding rings or engagement rings were made of precious metals such as gold or platinum. But today engagement rings and wedding rings are produced in a variety of popular materials like titanium, black zirconium, tungsten, and of course in ceramics.
Ceramics, in recent years has been used to manufacture watches of leading European brands and are available in a variety of colours. We are seeing an increase in popularity in the selection of black rings, wedding rings and engagement rings.
The materials used to create ceramic rings or jewellery are a type of cubic zirconium, the same material used to make artificial diamonds. One might think that these are fragile, but just like diamonds, they are highly scratch resistant, durable and virtually indestructible. Ceramic is harder than titanium and also as durable as tungsten.
Ceramic rings do not change in color because they are not dyed or chemically modified. The color depends on a combination of the material's own natural minerals. Ceramic rings are also completely allergy-free and metal-free so they can not conduct electricity.
Our ceramic rings are very unique and different from traditional metal rings, and are an innovative choice for wedding and engagement rings.